5X Finger Vibe Review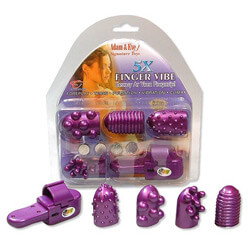 The 5X Finger Vibe set is presented by the Sinclair Institute. This compact pleasure device is discreet on so many levels: audibility, design and size. It's thrilling vibration patterns, 4 textured sleeves and ultra accurate, multi speed dial definitely make for an arousing turn-on toy. Best of all, this well-constructed item fits right on your fingertip.
Description and Materials
The 5X Finger Vibe is a vibrating personal massager that can be used to stimulate pinpoint areas of the body, particularly the erogenous zones. It's pocket-sized at 3 inches long and has a body that's 1 inch wide. This vibrator is incredibly lightweight and is comfortable to manoeuvre while wearing it on your finger(s). The finger clamps easily open up to accommodate larger digits and can even be expanded to fit snugly over 2 or 3 fingers, which I actually preferred over just 1.
The adjustable clip is surprisingly well-built. With that being said, if the clamps aren't opening up as far as you'd like, you can fiddle but don't force! The clamp can come away from the body if you pull too hard and snap the plastic covering right off.
The material is phthalates free, with a plastic body and Pleasureskin sleeves. Pleasureskin is a name of a compound composed of Thermal Plastic Elastomer, TPE. The benefit of this material is that it's elastic and flexible; on the downside, it's exceedingly porous. Another disadvantage of the material is that it has a tacky texture and a tendency to pick up lint.
The 5X Finger Vibe comes in one colour: purple. I totally appreciated that the package came with 8 AG13 batteries, commonly found in watches. There were 4 included inside the toy and 4 on the side.
The 4 fingertip sleeves are made of Pleasureskin and can easily slide onto the body of the toy using a bit of lubricant. They are as follows:
Nubby Lover – large dense rounded nubs intensify sensations.
Bumper – small dense rounded nubs that go right around the entire sleeve. (My favorite)
Spiral – a gentle straight ribbing that also covers the surface of the sleeve.
Tickler – soft, bendy ticklers that are concentrated at the tip of the fingertip sleeve.
How It Works
The 5X Finger Vibe is very simple to use and I was happy to find that the vibration was evenly distributed in the toy. There's a button on the bottom that turns it on; pressing the button again will set it to the next sequence. Once you've gone through all 5 of the different vibration settings, pressing the button for the last time will shut off the toy. The dial is very sensitive so turn it up and down gently in order to avoid getting more of a zap than you intended.
You want to make sure that you actually turn off the toy. Because you can adjust the intensity dial of the vibe to 0, it can be left on without seeming like it's wasting the battery. Twist the dial after you're done playing to make sure it's actually turned right off.
You'll definitely want to put lube on the toy to ease on the sleeves. Without it, they're awkward to push on and it's nuisance enough that you'll want to play sans sleeves. With that being said, don't overdo it with the lube either; you'll find that they won't stay on the toy if you've used too much. Another reason to use it sparingly is that the intensity dial's location is close to the edge and fluids can easily seep inside.
I also absolutely love that this toy includes a little reminder of vibration pattern built right on to the body of the toy. It's a sticker that can easily be peeled off once you know them. The settings are as follows:
Foreplay - a sequence of pulsations and escalations, all varying in speed and intensity.
Tease - a succession of continuous vibes, pulsations and most intriguingly, subtle pauses.
Pulsation - a fast oscillating beat.
Vibration - a steady continuous vibe.
Climax - a tantalizing combination of pulsation and vibration.
Packaging/Storage
The packaging of the toy is basic, but good enough to clearly display each component well. There was a picture on info sheet that showed the toy at actual size - it's a nice little detail. The item comes with a narrow black velvet bag to store the toy and all of its sleeves.
Audibility
This was one of the quieter vibrators I've used. The noise level is based on the strength that you're using it at. At the lowest settings, the 5X Finger Vibe was fairly quiet. However, the audibility increased a great deal as the intensity got higher. The batteries didn't rattle against body (a plus), but the clamps rattle slightly if you decide not to wear the vibrator on your finger(s).
How It Works/Pleasure Factor
My use of the 5X Finger Vibe was so rewarding. This was the first time I've ever experienced such a difference in sensation when I utilized the various fingertip sleeves - I loved the assortment! The toy doesn't make your finger(s) go numb, another plus.
You can experiment with a number of other ways to use the 5X Finger Vibe. Hold it on the outside of your cheek while you perform fellatio – it is so hot to experience and you can adjust it as mild or as strong as you like! This vibe is also great to use as a personal massager for your hands and fingers. It gently massages in between the metatarsals and can even send a tingling up the arm, which feels especially good if you do a lot of typing.
Due to the precise control, you can use the 5X Finger Vibe to stimulate the most sensitive areas on the body, like directly on the clitoris or behind the scrotum. This is a great toy for those who complain about vibrators being too strong. Yet at the same time, it has the capability to really get cranked up! Credit due for a truly large range of power settings.
Cleaning
You're going to have to be a bit strategic with how you clean the 5X Finger Vibe. Wash it before and after each use with anti-bacterial soap and warm water; alternatively, use an adult toy cleaner. Let each component air dry thoroughly before you store them. In my opinion, this would be a toy that would be a nuisance to use with a condom. It is recommended that you don't immerse it in water and use only a water-based lubricant. Store it in a cool place.
Critique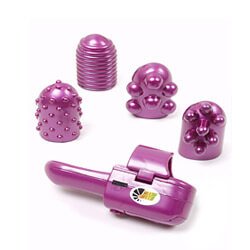 Although I'm left-handed, I found it easier to use the vibrator with my right, mostly due to the side that the dial control is on. It is a benefit to be able to use these devices with either hand, which is why I considered it to be the only main drawback to the 5X Finger Vibe. In the grand scheme of things, it doesn't lessen my high opinion of this toy.
The only other downside was that the intensity dial was just a tiny bit too close to the edge of the body. I didn't like that fluid can seep that easily into the body of the toy. Waterproofing would have been nice but for that low of a price, I suppose one can't expect to have everything!
Long Term Appeal
This one will have long term appeal because its shape isn't too trendy and it doesn't sport a penis or forest animals on it. It was a lot sturdier than I anticipated and I foresee it operating for a long time to come.
It's a fabulous price! You get a cohesive set of items as well as a highly functioning device. The value of this product totally bumps up its rating.
Final Thoughts
If you want to experience some really seductive sensations, you'll really enjoy your experience with the 5X Finger Vibe. I rate it 7.5/10.
To Order / More Information
If you would like to order a 5X Finger Vibe, or would like to get more information about it, please check out the following stores...