Crystal High Intensity Bullet Review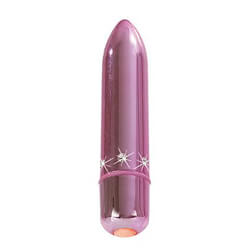 A great all-around stimulator that can satisfy aces and amateurs alike, this little bullet is full of ammunition - and it comes in the form of high intensity vibration. Thanks to a new form of incremental speed control that's eager to please, you'll feel the intensity rise with just a tap of a button.
Plus, its subtle crystal adornment adds just the perfect amount of bling, so your orgasms will always be decked out in style.
Description and Materials
The waterproof Crystal High Intensity Bullet is a classy and petite personal massager that measures a diminutive 2.5 inches (6 cm) long and 0.6 inches (2 cm) wide, and its available colors are pink, purple or silver. Made of shiny ABS plastic (with metal plating), this stimulator is considered hygienic and body safe because its material is non-porous and phthalates-free.
It sports a seamless finish, with tiny crystal embellishments midway up the body, as well as a luminous push button control - giving this vibe a unique and subtly distinct look. California Exotic Novelties, a leader in the adult novelties and toy industry, even includes the single 'N' sized battery needed to fuel this one-setting, multi-speed vibrator.
How it Works
The bullet's functionality is not immediately obvious but, once you get the hang of it, its simple mechanism offers precise control over intensity … and an overall orgasmically indulgent experience. The secret lies in its single push-button control. Simply press and hold the button down until you reach your desired level of vibration (in this case, it's one continuous vibe), enjoy the stimulation, and tap the button again to shut it off.
The cool aspect about this vibrator is that the control button actually flashes red whenever the speed gets increased and will glow a continuous red once you reach the vibe's maximum capacity.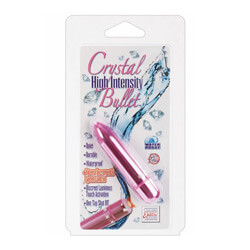 Packaging & Storage
The bullet is encased in a clear plastic box and includes an insert containing slick illustrations as well as features and benefits. Overall, it's nothing impressive but it definitely looks great given the price point. No storage bag was included with purchase.
Cleaning & Maintenance
It's best to wash the Crystal Bullet before and after every use using hypoallergenic soap and warm water. Since this vibrator is waterproof, this process is made very simple; just make sure the cap is securely twisted on before running under water. As well, the manufacturer recommends using only water-based lubricants with this bullet.
Critique
It looks so demure and elegant, but this pocket-sized pleasure object packs an enormous punch. As the Crystal Bullet is so inexpensive, you might not think it would be capable of offering as much precision as it does 'punch', but nothing could be further from the truth; the vibrator's maximum strength is quite exceptional, yet it provides surprisingly exceptional control for users who prefer milder speeds of stimulation.
This little vibe has a lot going for it. In addition to being capable of full body stimulation (including nipples, clitoris, testicles, and anus), it is also great for travel, absolutely ideal for solo and couple's use, is waterproof, and heats up your erogenous zones to a delightful warmth - that is, if you can contain your orgasm for the few minutes that it needs to warm up!
You'll also appreciate that its look is unique, fairly discreet, and comes in an assortment of attractive, crystal-adorned colors.
There are a couple of fairly minor flaws to point out. First, the Crystal Bullet isn't whisper-quiet, though the sound that it emits is reasonable enough to be tolerable in bed, and it still makes less of a racket than similarly priced bullets. Secondly, the cap must be tightly screwed on in order for it to turn on and work effectively.
It isn't a flaw, just a tip for use, especially if you're giving it to someone as a gift.
Long Term Appeal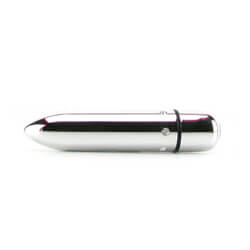 You'll never get bored of owning this bullet vibrator because its uses are practically indispensable, but you may get tired of trying to remember to purchase the necessary 'N' sized batteries. Better buy in bulk because they run out fairly quickly given the intensity with which it vibrates.
What a fantastic bang for your buck. For a relatively low investment, you get a powerful, multi-speed vibrator that's sized just right. While you're at it, stock up; get one for you, one as a back-up, and a few for some of your favorite friends (think birthdays, bachelorette parties, stocking-stuffers, etc.).
Final Thoughts
The Crystal High Intensity bullet is a delightfully dainty pleasure object that easily fits in your pocket or purse - why wouldn't you take it everywhere? With a high powered buzz and easily customizable intensity, it truly is a rocket that'll send you soaring. We rate it 8/10.
To Order / More Information
If you would like to order a Crystal High Intensity Bullet, or would like to get more information about it, please check out the following stores...