First Time Tulip Review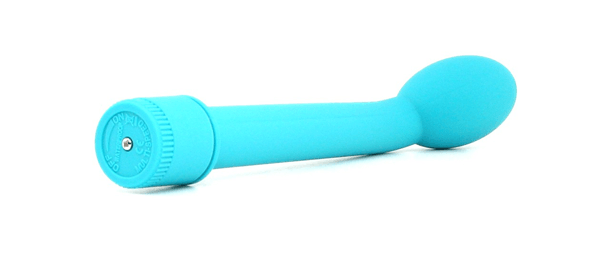 If powerful intensity and an unbelievably low price are what you're looking for in an insertable vibrator, look no further than the First Time Tulip G-Spot vibrator.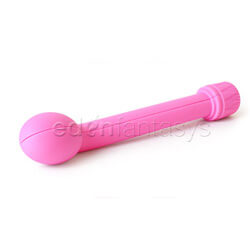 The toy's shape is angled precisely so as to expertly massage the elusive 'G' - and you'll be happy to know that it delivers pleasure well as a dildo or as a vibrator.
Description and Materials
The velvety smooth texture of the Tulips odorless non-toxic material feels great against the skin - thanks to the ABS plastic sheathed in PU Cote, a non-porous, phthalate-free material.
The toy not only bears California Exotic Novelties' Safe and Pure label, it is also waterproof. Available colors are pink or purple.
The dimensions of the G-spot Tulip are as follows: 8 inches tall with an insertable length of 6 ¾ inches weighing at a mere 2.2 ounces. It has a 4.25 inch circumference and a diameter of 1.25 inches.
How it Works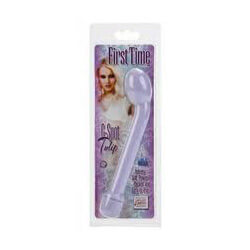 The easy to use First Time G-Spot Tulip requires two regular AA batteries to operate. Simply twist off the cap and insert batteries as shown on the paper instructions tucked inside the battery chamber - which, by the way, is a good idea to leave inside so as to reduce the noise from the batteries from rattling against the inner walls- and replace cap. Turn the dial to increase the intensity of the vibration.
Packaging & Storage
The First Time Tulips packaging is nice and simple. The toy arrives snugly set in clear plastic, encased in a thinner clear plastic sleeve that allows you to see the entire product from within. Playful illustrations, together with product features and benefits adorn the sleeve.
Storage is a breeze with the Tulips PU Cote material, particularly because it doesn't attract lint. Store it in the soft plastic case it came in or keep it stowed away in a clean sock, or rolled up in a hand towel.
Cleaning & Maintenance
In order to maximize the life and hygienic quality of the Tulips velvety PU coating, it ought to be washed before and after every use with soap and water or an adult toy cleaner. Pat down with a lint free towel and leave it out to air dry completely before stowing it away.
Critique
The Tulips design is simple, it's easy to clean, and it delivers quite a powerful intensity compared to other G-spot vibrators. The G-spot Tulip can also be used anywhere (the bath, the shower, the bedroom, etc.) as long as you realize you're probably going to be heard!
One of the less appealing characteristics of the Tulip is the noise level; not only is the pitch a little annoying, but the volume is high too. On a related note, this vibrator is one of those that vibrate your hand almost as much as your bits!
The Tulip got an early curtain call from me not because it was a faulty product, but because it just didn't contribute to an appealing enough overall experience to get off.
Long Term Appeal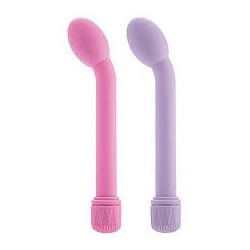 Any low-cost toy with a simple design that is made of hygienic materials has a lot of appeal, but be realistic about the expected lifespan of the Tulip. The construction is fair, but it may not go the distance if you're too rough in handling it.
Value
The Tulip has a pleasing minimalist aesthetic, is hygienic, and waterproof plus its price is incredibly low, but the noise factor may offset much of that value for some users.
Final Thoughts
Is it the toy travel-friendly? Yes. Has it one of the most effective shapes to stimulate the G-spot? Yes. Will it keep a top spot among your go-to, favorites? If the noise doesn't bother you, then it's a fair choice for value conscious consumers.
All things considered, I rate it 8/10.
To Order / More Information
If you would like to order a First Time Tulip, or would like to get more information about it, please check out the following stores...