Lelo Elise Review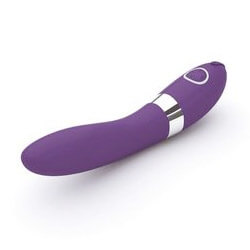 The Elise is an ergonomic, multi-talented vibrating dildo that can be used for clitoral, vaginal, and g-spot stimulation; it can also be used as a full body massager. The Elise is a premium variation of another member of the Lelo family, the Liv.
Description and Materials:
The Elise feels ultra smooth, almost velvety, against your skin and is made of material that is medical-grade silicone, hypo-allergenic, non porous and phthalates free. It has a soft arc but a stiff body with smooth curves.
The Elise comes in two colours: white pearl or sweet plum. Lelo's presentation consistently pleases by showcasing their product in a gorgeous gift box, and, as always, the vibrating dildos come with a charger, manual, 1-year warranty and a black satin pouch which is excellent for quick and easy storage. I'm pleased that there are no batteries to waste; it only takes three hours to charge and provides up to four hours of user time in return.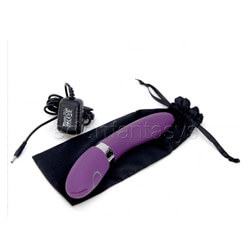 How It Works:
The Elise has 5 pre-programmed arousal modes, 5 multiple speeds and is splash proof! There are two pleasure points that run lengthwise down the shaft to distribute an even vibe throughout the unit. This is great for clitoral stimulation or full body massage because it's capable of achieving a high intensity.
The interface dial is very responsive and lights up to let you know when it's on, as well as when it needs recharging! The base of the Elise is made of plastic and its bulbous shape lends itself to easy handling.
Experience:
All of the Lelo products that I've tried so far, including the Elise, have one thing in common: they're incredibly quiet. The Elise maximum noise level is less than 50dB; which is indistinguishable if you were in the next room. The one drawback, albeit a small one, is that you have to get accustomed to the high pitched frequency that it emits, especially if you have sensitive hearing.
In terms of pleasure, the intensity of the vibration made it great for vaginal and clitoral stimulation; for some people, this could also be a g-spot stimulator because of the natural curve. However, I found it too stiff to stimulate my g-spot effectively.
I would have preferred a different combination of flexibility and bend, my ideal being a rounder arc to compensate for the rigidity of the unit. Regardless, the Elise is a useful vibrator that can be used for a variety of play from a stimulating massage to a vigorous vibrating thrusting toy.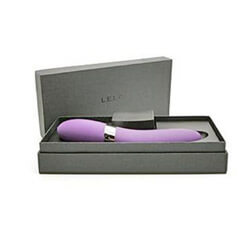 Final Thoughts:
There are a number of reasons why the Elise is a great product with long term appeal: the cleaning process is straightforward because Lelo's uses some of the highest grades of silicone to cover the main body of the toy; it's splash-proof; it has a great range of vibration; if cleaned and stored right, it'll stand up to lots of use and you'll want to keep using it.
There's nothing worse than questioning the safety and hygiene of your toy: the Elise by Lelo will give you that security. Plug one in … I rate it 9.5/10.
To Order / More Information
If you would like to order a Lelo Elise, or would like to get more information about it, please check out the following stores...