Lelo Ina Review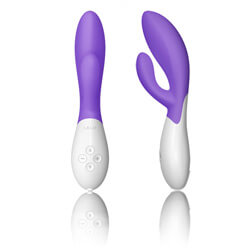 Despite the Ina's deceptively understated design, its function and shape have everything to do with maximum sensual satisfaction. Lelo is a company whose design aesthetic is consistently the perfect marriage of beauty, quality and functionality; with the Ina they have developed a luxurious dual action vibrator with a discreet, sophisticated look and the most intricately choreographed stimulation modes on the market.
Description and Materials
A newer member to Lelo's Femme line of adult pleasure objects, the Ina is a multi-talented dual action vibrator with a shape that's reminiscent of the traditional 'rabbit' vibrator. The Ina is made of a combination of materials: a velvety, phthalates-free high grade silicone that's draped over a rigid body, and a shiny ABS plastic for the handle. The massager is a mid-sized vibrator that stands at 7.8 inches long with an insertable length of 3.5 inches. The available colors to choose from are a vibrant red, purple, or lime green.
The Ina's S-shaped dimensions are practically identical to the Lelo Mona with the exception that it has a clitoral stimulator attached to its tapered middle. With such a lightweight (4.6 ounces to be exact), ergonomic design, it fits perfectly in the palm of your hand and is extremely easy to maneuver. It's powered by a rechargeable built-in lithium ion battery, which affords up to 4 hours of play time from a mere 2 hours worth of charging; it also has a 90 day long stand-by period. There's also a very useful self-locking feature that's designed to prevent accidental activation.
How it Works
The massager contains two individually operated motors, one at the clitoris and one located near the g-spot, controlled with an intuitively designed, built-in interface. The 4 button control pad easily regulates speed and stimulation modes, giving the user precise control over sensations. The eight pre-programmed pleasure modes are the crowning glory, ranging from continuous, soft flutter … to intense pulsation. A few of them are so elaborately synchronized that the sensations oscillate, heighten and pulsate between the pleasure points like a finely tuned harmony.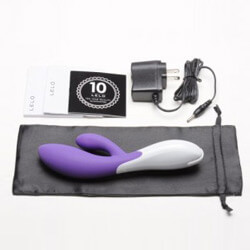 Packaging & Storage
The packaging is nothing short of spectacular. The outer casing is a cardboard sleeve with an attractive, yet understated, design and sports a color scheme that complements the color of your Ina. Sliding it off reveals an elegant gift box, reminiscent of one that normally only encases precious jewelery. Also included is a luxurious satin pouch for safe-keeping, a multi language user manual, and a charger - as well as Lelo's one year warranty agreement.
Cleaning & Maintenance
Proper care and maintenance will greatly increase the function and lifespan of this product. First, only use water based lubricants since silicone based varieties can potentially make the toy's surface permanently tacky. Secondly, wash the toy before and after every use with hypoallergenic soap and warm water, making sure to rinse it off with hot water and patting it dry with a lint-free towel. However, take care to avoid submerging the toy into water; it is not waterproof and getting the inside of the DC socket wet may damage its operation.
Critique
Now we get to the good stuff. Thanks to Lelo's ingenuity and excellent engineering, the Ina has eight of the most finely tuned stimulation modes ever. Not only are these options impressive, they can also be turned up to high levels of intensity, answering the call of buzz-hungry users who need a tad more throttle than a run-of-the-mill vibrator can offer. However, sensitive users need not be intimidated as the Ina is still capable of offering the precise control and gentler speeds that Lelo is known for.
The shape of the body is absolutely ideal for tantalizing the g-spot and the shaft's rigidity offers more control and adjustability. Another positive point is that the vibration is well distributed throughout the body of the toy, being most concentrated at both pleasure points - but without spilling over to the handle (that would inadvertently give one's hand too much vibe).
One downside of the Ina is that it is not waterproof, and at the price it'd be nice to have the option of shower play. Another smaller drawback to consider is that the clitoral stimulator is a tad stiff and presses quite firmly against the erogenous zone; luckily, its hardness does relax a bit after repeated use.
Audibility
Despite the fact that the Ina is quiet powerful, it is still among the quietest vibrators available on the adult toy market. When set to higher speeds, or the more complex program modes, the frequency is somewhat audible emitting a medium pitched frequency, but its sound is hardly enough to distract or irritate.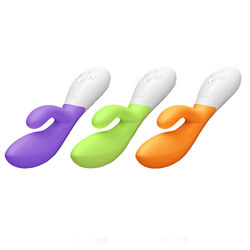 Long Term Appeal
Those who love the function and feel of a dual action vibrator will be nothing less than thrilled with its performance. Rest assured that the Ina, like most other Lelo pleasure products, will consistently keep you cumming.
Value
The cost of the Ina is on the higher side. However, its dependability, performance and innovative construction make it well worth the investment in the end. And as a consolation, you never have to pay for batteries.
Final Thoughts
You'll have no regrets saying, "The Ina is 'a-mine-a'." Its unparalleled pleasure modes, gratifyingly sensual ergonomic shape and superior construction make this adult plaything a top rated pick. We rate it at top-notch 10/10.
To Order / More Information
If you would like to order a Lelo Ina, or would like to get more information about it, please check out the following stores...