Lelo Lily Review
This toy is the perfect marriage of sophistication and self satisfaction. With an aesthetic that is unmistakably Lelo, a company renowned for creating some of the world's best pleasure objects, The Lily is beautiful to look at and exhilarating to play with. Its understated design makes it a great accessory for use individually or with a partner, and its superb quality and simple user interface will keep you coming back for more.
Description and Materials
Part of the Lelo Femme line, The Lily is an ultra lightweight, multi-speed, multi-functional vibrator. Unlike the many toys inspired by phallic shapes or cutesy animals, Lily's design aesthetic is simple yet sophisticated, making it an ideal bedroom companion for couples or users who value discretion. It also comes with a simple locking system to avoid the embarrassing possibility of it accidentally switching on.
The Lily is made of a hypoallergenic, latex-free, phthalates-free ABS material. The surface of the toy feels velvety soft against your delicate skin, yet easily maneuverable because of its rigid body. At three inches long by two inches wide and weighing a mere thirty seven grams, the Lily is so comfortable to manipulate that it easily becomes an extension of your hands and fingers. Compared to the shiny plastic surface of its near twin The Nea, the sheen of The Lily is matte and comes in your choice of pink, black or purple.
How it Works
In addition to being a pleasure object, The Lily is also an environmentally conscious product as it is rechargeable. After only a two hour change time, it delivers up to seven hours of near soundless vibration, and it can maintain its charge for up to ninety days. The LED indicator lights up when the toy's motor is engaged and will glow red when The Lily needs to be charged.
In terms of its inner workings, this vibe contains a lithium ion battery that can be rejuvenated using the included charger. Its control panel is an intuitive interface with an LED backlight that contains only two buttons: one increases intensity while in continuous vibe (and also serves to toggle through the five stimulation modes), and the other to decelerate the stimulation (as well as exit the program mode).
Pleasure Factor
The vibration is distributed fairly evenly throughout the toy's body because of its centrally located pleasure point. This means you can use every inch of the Lily to stimulation your erogenous zones without having to sacrifice intensity. Since there are multiple ways of using The Lily (e.g. resting it on top of the pubic bone or vulva, nestling it against the outer labia, or using it to massage the nipples), you'll discover new and unexpected sensations.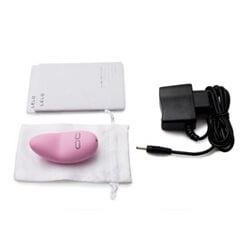 Packaging & Storage
The packaging is top of the line and absolutely stunning; it is presented in a chic black box that can be used to store the vibe in, and also includes an elegant satin pouch for safe-keeping, a user's manual, a charger - and a full one year warranty.
Cleaning & Maintenance
Wash the body of the toy thoroughly before and after every use with warm water and hypoallergenic soap, rinse with hot water, and pat dry. Avoid getting water into the DC-socket or around the buttons.
Critique
The Lily's most appealing features are its beautiful styling and assurance of quality, followed closely by the fact that its sound is practically indistinguishable. It also offers precise control over the vibe's intensity, which is perfect for users who are most sensitive to subtler changes in speed. Many will also appreciate that its shape is unassuming and very discreet.
Probably it's most distinguishing characteristic is the fact that it offers milder vibration speeds, which many women find more arousing than some of the highly charged sex toys sold on the pleasure market. Essentially, this particular vibrator is best suited for those who prefer a gentler buzz; users who prefer a powerful charge will be more partial to Lelo's newest, most powerful personal massager, The Siri (review to come).
Audibility
You can barely hear the buzz that emanates from The Lily. With a maximum noise level coming in at less than fifty decibels, this stimulator - as with the rest of Lelo's ultra quiet line of products - is as close to soundless as you will ever get.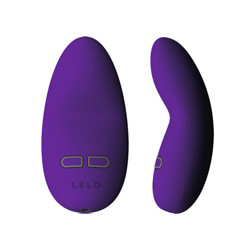 Long Term Appeal
Due to the manufacturer's commitment to quality and performance, the Lily will have no issues satisfying its owner on a consistent, long-term basis. Having owned numerous other Lelo sensual massagers that have continued to work for years after having made the purchase, their dependability is unquestionable, leaving absolutely no doubt that this vibe is designed to last.
The complementary one year warranty demonstrates Lelo's confidence in their products and assures buyers of their commitment to user satisfaction.
The Lily's luxuriousness doesn't come cheap; however, if you want to indulge yourself with a top quality, eco-sexy vibrator, this little darling is a good way to do it. Do keep in mind that this vibe is rechargeable, which makes it more economical over the long term because you never have to purchase batteries, ever.
Final Thoughts
The Lily's delicate arch and gently rounded body make it a perfect complement to a woman's most sensitive parts. It's elegant, environmentally friendly, and ideal for a user who prefers milder sensations. We rate it 8.5/10.
To Order / More Information
If you would like to order a Lelo Lily, or would like to get more information about it, please check out the following stores...