Lelo Mia Review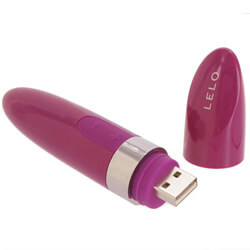 You'll want to take this tapered, lipstick look-alike everywhere you go. Why? Because its discreet design and practically soundless buzz make on the spot orgasms easier than ever.
Technology enthusiasts and eco conscious consumers will also rejoice at this deceptively powerful clitoral vibrator; the Mia's lithium ion battery is rechargeable via the convenient USB plug built right into the unit. Because it's lightweight, convenient and completely unassuming, it'll be the most desirable travel companion you'll ever own.
Description and Materials
A pleasure object from Lelo's Femme line, the Mia is a multi-speed, multi-function vibrator with a simple and chic design. It is constructed from an ABS plastic that is glossy and smooth to the touch.
The intuitive interface is made of phthalates-free silicone, and thus the Mia should only be used with water based lubricants (as silicone based varieties may make the silicone on the toy permanently tacky). The Mia is not waterproof and thus should not be submerged in water.
This fashionable yet ultra-convenient clitoral stimulator measures 4.25 inches long, 7/8 inch in diameter, and weighs a mere 32 grams. The rechargeable battery is accessible simply by removing the cap located on the flat side of the Mia. Users may also plug it into a USB connection; the cord is included. Two hours of charging translates into up to fours hours of play, and it also has a standby period of up to ninety days.
How it Works
Pleasure can ensue by engaging the simple, two button interface. Press the + button to turn on the unit (automatically into Continuous mode) and hit it repeatedly until you reach your desired buzz.
The three other stimulation modes - extended, intermediate, and short interval pulsation - are all set at about a medium strength. They oscillate throughout the entire body of the toy, not just at the tapered end, which is a pretty impressive achievement in its engineering given the fact that the flat side is merely a cap that covers the USB port.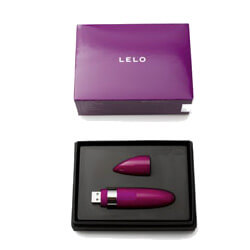 Packaging & Storage
Lelo consistently provides the ultimate in superb, sophisticated packaging, and the way the Mia arrives at your door is no exception. It is showcased in a chic Tiffany-esque gift box and is replete with a number of extras: a corded USB charger (which is up to you to use or not), a drawstring satin satchel for storage, a detailed owner's manual in five languages - and a warranty agreement.
Cleaning & Maintenance
Proper cleaning will greatly increase the life span of this product. Before and after every use, wash with warm water and antibacterial soap, rinse with hot water (to remove residual soap or lubricant), and pat dry with a clean towel. To prevent water from getting into the DC socket, avoid submerging it.
Critique
The Mia is part of a unique, elegantly constructed line of products manufactured by Lelo, a company that is world renowned for creating luxurious, carefully engineered pleasure objects. They take the trouble to ensure that even the little details are taken care of, and include a sizeable one-year warranty to back up the product - a rarity in the world of sex toys.
The toy is discreet, easy-to-use, virtually inaudible, and is designed to be carried with you wherever you go. A very useful feature that Lelo built into the toy is the automatic locking function, which prevents accidental activation when transporting the Mia - a big plus, especially when it's in your hand bag.
Many women complain that the range of their toy's intensity isn't broad enough to satisfy the subtler range of their needs, but luckily one of the superior features of the Mia is the fact that it's capable of achieving milder speeds of vibration.
With at least eight detectably different speeds in Continuous mode, you can choose the exact level of potency to suit your needs (although some ultra high-power users may find that the Mia could use some extra throttle at the upper end of its buzz spectrum).
Audibility
The Mia's sound is barely discernible. With a maximum noise level buzzing in at less than fifty decibels, this vibe (like all of Lelo's ultra quiet products) is as close to noiseless as you can get. Its muffled sound makes it even easier to use at a moment's notice, even in a relatively public area!
Long Term Appeal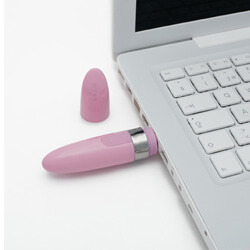 Lelo's commitment to precision and quality means customers are satisfied over and over and over. Along with every other Lelo product we've tested, the Mia's functionality is unwavering and the manufacturer's generous warranty - which we have never needed to use - instills confidence and assurance in end users.
The Mia's dependability and simple aesthetic will definitely earn it a place in your 'forever-tickle-trunk'.
Value
This toy is a steal compared to the cost of other high-quality vibrators. Plus, don't forget how much you save in the long run because you never have to pay for batteries.
Final Thoughts
The Mia's top features are its barely-there sound, precise control, discreet sophistication, and top-of-the-line construction. Moreover, the fact that it's rechargeable (conveniently via USB) makes it an eco-conscious product. It makes for an excellent travel companion or perfect gift for individuals and couples. The Mia is a must have - we rate it 8.5/10.
To Order / More Information
If you would like to order a Lelo Mia, or would like to get more information about it, please check out the following stores...