Lelo Mona Review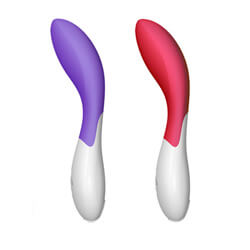 Created by the innovative Scandinavian sex toy designer Lelo, the Mona is yet another hit in their Femme line of luxury pleasure objects. With a design aesthetic that combines simplicity and sensuality, this outstandingly engineered massager will sweep you away with it's perfectly curves and precise, multi-function, multi-speed capabilities. And it doesn't matter if you're a novice or seasoned toy user; this mid-sized insertable vibrator will provide a very 'fulfilling' experience within.
Description and Materials
This multifunctional stimulator is composed of hygienic, phthalates free materials. The handle is made of shiny, smooth ABS plastic, while the insertable shaft is sheathed in matte, velvety smooth, high grade silicone. The ergonomic body of the toy is completely rigid, which is often preferable for many users because of the control and maneuverability it affords. The weight of the massager, which is just under 4 ounces, is also perfectly distributed, thus adding to its overall ease of use.
Looking at the Mona head on, it has an overall slim appearance that tapers in the middle, but turning it on its side will reveal a sort of S-shaped curve with a delectably full, bulbous head and an arch that's bent in the right direction. From tip to tail, the Mona stands tall at 8 inches long with a penetrating length of 4 inches. The colors you can choose from are both vibrant and modern, and are available in red or purple.
The Mona is powered by a built-in lithium ion battery that is completely rechargeable - a charger is included with the product - and affords up to 4 hours of user time from a mere 2 hour charge time; it also has a long stand-by period of 90 days. The LED indicator lets you know when the massager is active or charging and glows red when the Mona needs to be recharged. It also boasts an easy to activate, self locking feature, designed to prevent accidental activation when transporting the Mona.
How it Works
The Mona sports a carefully crafted, built in user interface that has been completely updated from Lelo's earlier vibrator designs such as the Gigi or the Elise. This new version of the 4 button control pad is easier to use and much more visually appealing. The '+' and '-' buttons control the speeds while the 'up' and 'down' arrows cycle through the 6 programmed stimulation modes. The intriguing variety of vibration settings are specially designed to incorporate the individually powered pleasure points to optimally stimulate the clitoris and the g-spot.
Audibility
When set at lower speeds the Mona's sound is practically indiscernible; while at higher speeds the noise level is somewhat audible, emitting a low to medium pitched hum depending on the selected setting. Despite this, when compared to similarly sized vibrators, the Mona's hum is as inaudible as you can get. With a maximum noise level of 50 decibels, this Lelo creation is amongst the quietest vibrators on the market.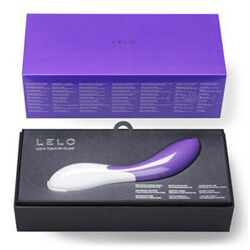 Packaging & Storage
Anyone who purchases a Lelo product will be impressed before they even open the box -its presentation is impeccable and well thought out. The outer box is a sophisticated cardboard sleeve and its colors reflect that which you select for your Mona. Once it's slid off, you find an elegant black gift which contains everything else you could possibly need: a deluxe drawstring satin satchel for appropriate storage, a charger, an owner's manual written in eight languages, a one year warranty agreement, and of course, a beautifully displayed Mona in it's own separate case.
Cleaning & Maintenance
In order to increase the lifespan of this product, proper care and use are recommended. For starters, avoid using silicone lubricants. Not only will it dry out almost instantly, it can make silicone surfaces permanently tacky. Secondly, since the Mona is not waterproof, never submerge it in water; getting the DC socket or the control dial wet will damage its internal workings. Third, use proper cleaning practices, which essentially involve washing the Mona before and after every play session using warm water and antibacterial soap, rinsing it off under hot water, and patting it dry with a lint free towel.
Critique
If you're a fan of Lelo pleasure objects, you'll probably recognize that the Mona appears to be a revamped version of Elise, and this rendering is definitely a step in the right direction.
With a substantial bulge at the head of the toy -which also happens to contain the most concentrated vibration- and a beautifully arched curve, the Mona is a perfect g-spot massager that can easily double as a clitoral stimulator. It can be dragged along the entire body, stimulating the neck, back, nipples, vulva, and anus. In fact, anal sex (in this case, between a heterosexual couple) can feel absolutely divine for both partners; when the Mona is worn inside the female's vagina while her anus is being penetrated by her fella, the vibrations will send stimulating waves to her g-spot and his p-spot. It can also be used solely as an anal penetrator.
Its strength is moderately intense, which is the one major qualm that a user might have with this particular product, especially when you consider how much is spent on its purchase. With such a fantastic variety of a speeds and vibration patterns, it seems a pity that users who need more of a 'buzz' might not enjoy them to their fullest capacity. The Mona also isn't waterproof; it's certainly not the worst offense but it is nice to have the option of wet play.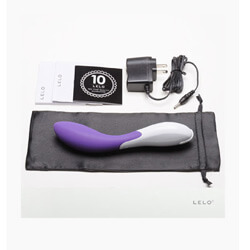 Long Term Appeal
As with any Lelo product, the Mona is an adult plaything that'll be a pleasure to own, and its array of erotic possibilities will keep you cumming for years.
Value
Such extensive pleasure and dependability doesn't come cheap; the price point is on the high side for this adult plaything. However, don't forget to factor in that you never have to pay for batteries. And chances are the Mona won't be breaking down anytime soon, if at all.
Final Thoughts
With a long running-time, impeccable craftsmanship, and above all else, a powerfully pleasing shape, we can honestly say that the Mona should really be dubbed the 'Moana'. We rate it 9/10.
To Order / More Information
If you would like to order a Lelo Mona, or would like to get more information about it, please check out the following stores...