Lulu Satin Scoop Review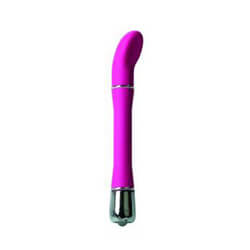 One of California Exotic Novelties' newest toys to hit the market, the Lulu Satin Scoop Vibes has something for everyone - combining easy maneuverability, targeted stimulation for your clitoris, and a slender wand that can exhilarate your G-spot. Plus, its body-safe material is unscented and non-toxic, so you feel confident about play with every sensual wave of this little vibrating wand.
Description and Materials
This lightweight, waterproof, personal massager is elegantly designed and satiny soft. The attractive, wand shaped stimulator has a rigid body and is made of a non-porous, phthalate-free material called PC Cote that actually feels velvety against the skin.
The Lulu's discreet size allows you to take pleasure virtually anywhere on the go. Despite the wand's small stature, measuring in at 5 inches tall and 0.75 inches at its widest point (13 cm by 2 cm), it still offers a big dose of buzz and has two powerful speeds to choose from. It comes to life with just a single touch of a button located at the tail end of the wand and requires two AAA batteries to operate. The toy is available in two bold colors: pink or white.
How it Works
The Lulu is very simple to operate - thanks to its one-touch, easy push button operation located at the base of the stimulator. Clicking the button once will turn it on and set it to the first speed; a second touch will rev up the intensity; and a third will shut it off again. Both settings offer continuous vibration patterns. The buzz travels throughout the body of the toy, allowing the user to use the entire length of the shaft for stimulation, but its vibe is concentrated most at the tip. To experience the most comfortable play possible, users may use silicone or water-based lubricant.
Audibility
When it comes to noise level, the Lulu falls somewhere in the middle of the road, but given its incredibly low cost, the audibility is entirely within reason and definitely won't prove to be a distraction from play. Additionally, there will be no irritating rattle from the batteries bumping around inside the chamber (as long as you don't remove the plastic sleeve inside the battery compartment).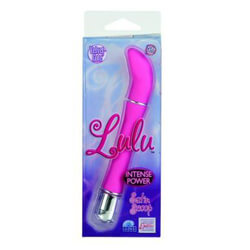 Packaging & Storage
The toy arrives in a colorfully packaged, clear plastic package that describes its features and benefits, as well as basic care instructions. Also enclosed is a leaflet explaining battery insertion. No AAA batteries were included with purchase.
The surface of the toy is not tacky at all, which makes it easy to find a suitable method for storage. Because of its diminutive size, the vibrator can be taken just about anywhere, fitting easily into a purse or pocket.
Cleaning & Maintenance
As it's waterproof, the Lulu is very easy to clean. It should be washed using a solution of warm water and mild or hypoallergenic soap. Alternatively, an antibacterial toy cleaner may be used. Pat it down on a lint-free towel and allow it to fully dry before storing.
Critique
From tip to tail, the Lulu embodies the utmost in sophisticated design and mega pleasure. The delectable tip curves superbly around a woman's outer curves for clitoral arousal while the shaft sports a suitable length to reach her inner hot spots. Not only that, but the vibe strength is ideal for stimulation of other erogenous zones, like the nipples and the anus. Overall, it is just so easy to play with.
With some toys, all that that extra plastic and jelly is just too much; and that is why the Lulu will appeal greatly to women who prefer less sizable toys, because (for them) quality and precision count for more than quantity. The slim, lightweight shaft will be exactly what many users need to locate and stimulate the G-spot, and the gentle bend of the tip send can be maneuvered to create an ideal self-pleasuring experience.
The major pros of the Lulu are its ease of use, modern aesthetic, and quality construction. And don't let its simple design fool you; it is reliable and powerful. The only potential downside for some is that the medium to medium-strong buzz strength won't be vigorous enough for 'power users.' Additionally, some may find that the length of the shaft, nor the size of the tip, will be quite enough to excite the G-spot fully.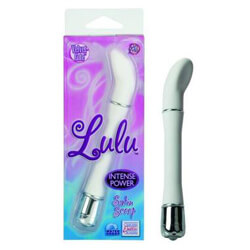 Long Term Appeal
If you don't have a self-pleasuring wand in your collection yet, this one is a definite must have. Since it is waterproof and well built, it will stand up to plenty of play as well as care and maintenance. This is one personal pleasurizer that will totally end up being one of your favorites.
There is no excuse not to buy a Lulu for yourself or your lover! The cost of this vibe is extremely minimal and is an outstanding 'bang for your buck'.
Final Thoughts
This pocket sized wand vibrator delivers massive gratification from such a mini frame; plus, it's so good looking! In this case, less truly is more. We rate the Lulu Scoop a definite 9/10!
To Order / More Information
If you would like to order a Lulu Satin Scoop , or would like to get more information about it, please check out the following stores...