Luna Pleasure Bead System Review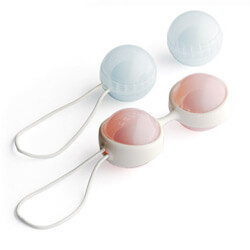 I was pleased to receive my first set of pleasure balls; they are designed by Lelo, the makers of very high quality sex toys like the Gigi and the Nea. They've created a pleasure object modeled after a classic sex object: the geisha-balls. I was happy that my 'workout regime' could be so fun and easy.
Presentation and Materials
The Luna Pleasure Bead System is packaged beautifully in Lelo's customary stylish manner: a Tiffany's inspired black box, a black satin satchel for storage, and a one year warranty. There are two sets of smooth waterproof balls that can be slipped into a medical-grade silicone girdle and then inserted into the vagina; there is hygienic cord on the end to ease removal. The Luna Beads are hollow and contain weighted balls; one set is heavier than the other. These tiny balls roll around inside and create a subtle vibration. Inserting the plastic Luna Beads will usually require lubrication, so make sure that you use a water-based version so as not to degrade the silicone.
How they Work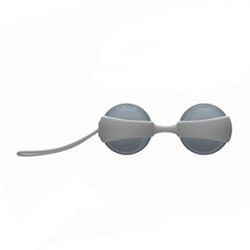 The principle behind the Luna Pleasure Bead System is part pleasure and part fitness use. They're based on the concept of Ben Wa Balls (also known as Geisha Balls). Inserting these balls into your vagina not only creates a pleasurable sensation, but also offers a purported wide range of health benefits such as improved sexual fulfillment, reduced urinary incontinence and revived condition of the pelvic floor after childbirth.
The silicone girdle is used to cradle the hollow beads that are holding the combination of weighted balls you choose to insert: you can start with the two lightest then combine the heaviest balls once you become more confident. When you use the heavier blue one and the pink lighter weighted ball, try to note the difference when the heaviest one is in the top part of the girdle versus the bottom.
The Luna Beads provide an interesting alternative to classic Kegel exercises, that are also meant to strengthen the muscles of the pelvic floor. Wearing the Luna beads and going about your normal daily activities will generate movements that actually contract your pelvic muscles, thus simulating a Kegel contraction. In this way, your body naturally produces the contraction by walking up stairs, walking, and running. This is a great alternative because daily Kegels require commitment and conscious effort.
Experience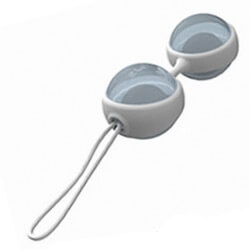 I felt an interesting sensation when I first starting wearing the Luna Bead System. It was almost indistinguishable at first, but as you wear the Luna more often, you notice the weights inside the balls gently rolling around. It's subtle but surprisingly erotic at the same time. It's funny when you forget about them and then get up to do something and realize there's something rolling around inside of you.
My goal was to wear the Luna system for one hour, a few days a week, for three weeks to see if there would be a difference in the way my pubococcygeus muscles felt. At the end of my trial, I felt a certain awareness of my pelvic floor and found that I had better control over prolonging the build-up to a g-spot orgasm as well as an improved ability to dictate when I actually came. I also noticed that on my "off days" I would spontaneously contract my PC muscles, which demonstrates that the Luna Beads does improve the fitness of your pelvic floor so much that it does its workout without you even needing to be conscious of it.
Final Thoughts
I think that many women could enjoy and benefit from some vaginal fitness training, especially when it betters your health and your sexual fulfillment. The beads were easy to use and very comfortable to wear. I give the Luna system an 8/10.
To Order / More Information
If you would like to order a Luna Pleasure Beads, or would like to get more information about it, please check out the following stores...