Nexus Excel Review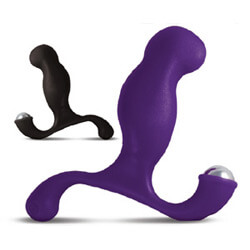 The Excel adds a new dimension to sex for those who want to embrace satisfying, more 'fulfilling' forms of ass play. With a more buff body and a bigger ball than its more junior-sized counterparts, it is ergonomically shaped to sit comfortably in the anus while it massages your prostate and perineum. Although its use is entirely unisex, the Excel was originally designed for men who to wish to explore the possibilities of rear-end orgasms and experience the ultimate in hands-free gratification of the prostate orgasm.
Description and Materials
The Excel is thoughtfully designed and has girth in mind. Manufactured in the UK, this prostate pleaser has received kudos for best product design at the 2006 Brussels Erotica Awards. The shape of the toy is somewhat mindful of a corkscrew; it has a pleasantly contoured shaft with a sort of t-bar across the bottom to guarantee that the insertable length does not migrate too far into an eager keister. An easy to grip handle sits on one side of the "T", and a chamber that contains a stainless steel roller ball sits on the other.
The stylish looking toy sports a smooth surface that has a slight textured finish, and is made of phthalates-free, non-porous medical grade plastic; this ensures safe, healthy play every time. The shaft is 4 inches (10 cm) in height, with a diameter of 1.75 inches (4 cm) at its thickest point. It comes in black, white, orange, red or purple.
How it Works
To enjoy the full benefits of this toy, you need to take your time with it. Use some of the tips in our article Anal Masturbation to help ease the toy into place; once you plug it in, park it near the p-spot, and let the play begin.
In order for your rectum to become more accustomed to the toy, gently contract your sphincter muscles open and closed, all the while doing deep breathing and self pleasuring; doing so will prepare the body for deep, whole body pleasure and help the anal area relax. To further your quest for your p-spot sweet spot, begin to tilt the pelvis back and forth. This action allows the roller ball to lick the perineal area and pumps the shaft against the prostate. Alternatively, manually maneuver the toy.
As pleasure starts to ensue the intensity of arousal heightens, so when you feel ejaculation coming on try to reduce or completely suspend self-stimulation in order to focus on what's happening 'behind' the scenes. At this point, it's just a matter of containing yourself, so if you can leave your pecker alone and put your attention on finding the backdoor "O", you can find the holy grail of self-pleasuring … the hands free orgasm.
Pleasure Factor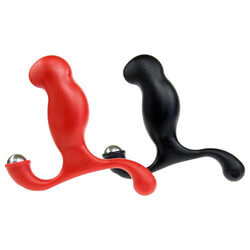 The question on most people's mind is, "Does it feel good?" and, "Will it work for me?" Following Nexus' usage instructions, you can accelerate your orgasmic possibilities with this prostate pleaser. The Excel's ergonomic curves will nestle themselves perfectly against the rectal wall closest to the prostate, and (if you relax and get yourself aroused enough) it's not only possible, but deeply consuming.
Aside from prostate massage (for men), the toy is a great all around butt plug (unisex), which can be worn to prepare your rear for anal fingering, and vaginal or anal intercourse. It's also a great way to experience a blended orgasm if you can't quite experience an internal climax on its own. Females can also wear it during sex, or for a solo session - and if you're male with a female partner, you can also try inserting the Excel and lay on your back while your female partner rides you!
Packaging & Storage
The Excel comes in a modern looking, clear plastic container and contains detailed usage information, commonly omitted by toy manufacturers. Since it doesn't come with a storage bag, simply keep the massager in a clean, lint-free sock.
Cleaning
The Excel's washing instructions are simple. Remove the roller ball (which easily pops out using the tool provided) and wash thoroughly using hypoallergenic soap and warm water. Do this process before and after every use and allow it to dry completely before storing it away. By the way, the roller ball tool can double as a hook for a rack or coat-hanger to air-dry the toy.
Critique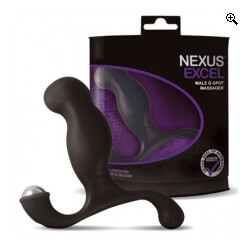 Yes, many people like it big and hard, but some will probably find that the Excel is rigid and fills them up a bit too much. Though the toy shape complements the body's natural contours, the thick dimensions of the prostate massager could limit the movement of the toy inside the chute, which for many men is instrumental in facilitating a p-spot orgasm. If you aren't experienced using larger sized anal toys, a safer bet is one of the smaller models. But if you're comfortable using big toys for deep anal play, you'll enjoy the added sensation of the larger sized marble (compared to the Nexus Glide and >Neo as it will cover even more ground. Try leaving it in to spice up masturbation, oral sex or vaginal intercourse.
Long Term Appeal
This style of prostate massager has a couple of features that many other anal pleasurizers don't; because of it's tapered shaft, it's comfortable to wear, it can double as a dildo or a butt plug, and has a perineal stimulator attached to it's shaft. It's an anal accoutrement that won't collect dust in your toy chest.
The cost of the toy is comparable to other high quality prostate massagers, and its high quality construction will help it stand the test of time. It's a good deal, through and through.
Final Thoughts
This toy is a multi-tasking piece of plastic. And if you like your butt packed real tight, the Excel will feel just right.
It gets a rating of 7/10.
To Order / More Information
If you would like to order a Nexus Excel, or would like to get more information about it, please check out the following stores...