Nexus O Review
Priding themselves on developing the most innovative, high quality massagers, the O belongs to an assorted line of pleasure objects created by Nexus, a UK company whose intended users are males looking to explore prostate stimulation. With a unique shape and unusual design, the O is quite unlike any prostate stimulator you've ever seen before.
Description and Materials
Unlike the majority of the Nexus line of prostate massagers, the waterproof O is made from ultra flexible, 'phthalates-free, super soft silicone'. The material is odorless and non-porous - perfect for embarking upon anal and P-spot play - and comes in your choice of purple or black. The O's triple ball ring design bears a resemblance to the shape of the letter 'C' and has bulbous sections in the middle section and two ends. Its height is 4 inches high (10 cm) and has a ring diameter of 1 inch (2.5 cm). The ball diameter, which will be the largest part of the toy to pass through the anus, is 1.4 inches (3.5 cm).
How it Works
Since its shape is quite out of the ordinary, how it's meant to be used isn't as intuitive as you might assume. The Nexus O includes a set of instructions that begin by discussing safe and comfortable insertion (e.g. relax, use plenty of lubricant, take your time), which of course applies to any anal or P-spot toy. They then describe the procedure specific to the massager, which explains that the recommended way to use it is to insert the O into the rectum just past the second pleasure point, so that there ends up being one ball exerting gentle pressure against the prostate, one near the entrance of the anus, and one resting on the perineum behind the testicles.
Once this is achieved, users can rock back and forth upon the toy or use their free hands to commence penile stimulation. As orgasm becomes imminent, they say you should stop manual stimulation and let climax occur as a result of inner contractions.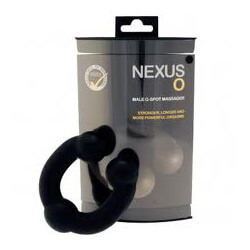 Packaging & Storage
The Nexus packaging is simple yet stylish. The O is presented in a clear plastic casing and comes with an information insert that contains product care, usage information, and a step by step guide to successful use. Though the manufacturer did not include a container for storage, they recommend (on their website) to wrap the item in a cloth or clean towel, stow it away in a clean shoe box or cosmetics case, and keep it in an environment that is cool, dark and dry.
Cleaning & Maintenance
In order to increase the lifespan of this product, proper care and use are recommended. One of the most important recommendations is to avoid using silicone lubricants in favor of waterproof varieties. Not only will silicone lube instantly dry up during play, it can make silicone surfaces tacky - making the toy permanently unusable. In terms of cleaning, Nexus suggests submerging the O in a solution of warm water and antibacterial soap, rinsing it off, and patting it dry with a clean towel. It can also be sterilized in boiling water.
Critique
The Nexus O experience was actually somewhat of a disappointment - a surprise considering the pleasure quotient of the rest of their toy line. The instructions for use seem logical upon reading them, but when it actually came down to using the product, it seemed almost impossible to be able to complete the steps.
The O's curve was rather severe, making it uncomfortable to do anything other than grit your teeth and avoid expelling it prematurely. Another consideration is that it was quite challenging to keep the second pleasure point inside of the body. Perhaps this occurs because it is meant to rest so closely to the 'exit'; unfortunately, this makes it difficult to keep in once your insides start contracting. It's not to say that achieving hands free fun isn't possible with the Nexus O, but it may be easier said than done.
Success with this product ultimately boils down to it having good fit with your body and the user being ultra confident with P-spot stimulation and anal play. Avid anal explorers will jump at the chance to try something so unique - and so they should - but novice and intermediate users should carefully consider whether such an intense bend will help or hinder their P-spot experience.
Long Term Appeal
With proper care and maintenance, this high grade anal massager will last forever. However, it's highly specific use may mean that it slowly becomes buried at the bottom of your toy drawer.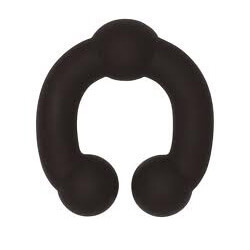 If you really enjoy the sensations that the O provides, its superior grade of silicone, durability, and ultra flexible body make it well worthwhile.
Final Thoughts
The O's material safety and quality of construction are both top notch, so users who are capable of using it successfully can rest assured that their health and safety have been considered. However, in terms of usability, your experience may be better.
We rate it 5.5/10.
To Order / More Information
If you would like to order a Nexus O, or would like to get more information about it, please check out the following stores...