Platinum Personal Pleasurizer Review
A recent addition to California Exotic's 'Safe and Pure' line of body friendly toys, the ergonomically shaped Personal Pleasurizer is a dual action vibrator that will provide an unparalleled erotic experience and deeply satisfying feminine arousal... thanks to its unique nestling scoop (which acts as a soft landing pad for the clitoris) and its contoured G-spot stimulator.
Description and Materials
The Pleasurizer's body is made of TPR (thermoplastic rubber) - a phthalates free, flexible material that is lightweight and supple to the touch. Unlike pure silicone toys that can be shared between partners, TPR is porous; thus, condoms should be used with the Pleasurizer to preserve safety and limit bacteria transfer.
In terms of dimensions, the dual action vibrator stands at 6.75 inches (17 cm) high with an insertable length of 2.5 inches (6 cm) and a diameter of 1 inch (3 cm). The internal stimulator is ultra bendy and curved to rest directly upon the g-spot, while the clitoral scoop delivers the majority of vibration and contains multiple pleasure nodes to heighten sensation.
The Pleasurizer is waterproof, requires two AAA batteries to operate, and is recommended by the manufacturer to be used with water-based lubricant. The available color choices are blue and pink.
How it Works
The classic rabbit vibrator style simultaneously stimulates a woman's clitoris and her g-spot. However, California Exotics' Pleasurizer is a new twist on this; rather that having an attached stimulator press down against the clitoris, the user simply eases in the vibrator far enough until she's comfortably nestled against the nubby scoop.
The nine vibration functions (with modes that include continuous, pulsation and escalation settings) will incite a variety of sensations and arouse deeply satisfying climaxes, both clitoral and g-spot. To navigate through the various modes, simply click the single push-button to cycle through the nine options; the tenth click turns the toy off.
Pleasure Factor
Does this new take on the traditional rabbit vibrator really make much of a difference to female arousal? Interestingly enough, the answer is a downright yes. The challenge with getting off using a conventional rabbit has to do with the flawed location and placement of the attached clit stimulators. They're placed either too high or low along the shaft of the dildo (which makes it difficult to find just the right sweet spot), they press too tightly against the clitoris, or reverberate too strongly without being able to control the intensity.
The difference with the Personal Pleasurizer is that scoop gently curves around the clitoris and its vibration intensity can easily be adjusted to suit a woman's preferences simply by adjusting the depth of penetration. Its easy maneuverability makes dual stimulation comfortable and highly erotic.
Audibility
The Pleasurizer isn't a toy you can sneak around with. It's fairly audible with a distinct whirring sound, and the sound is noticeable even when the massager is fully inserted. With that being said, keep in mind that its noise level is on par or better compared to similarly priced rabbit vibrators. Cal Ex did a good job containing battery rattle - and given the intensity of vibration it actually produces, the buzz emitted is pretty reasonable.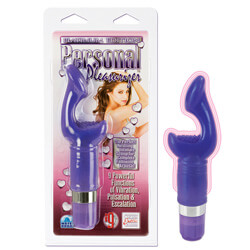 Packaging & Storage
The Pleasurizer's 'wow factor' comes from what's inside the box, rather than the package that it arrives in, which is basic and unexceptional. It comes securely packed in a form-fitting sleeve of plastic and includes a colorful paper insert with a basic description of the toy. Batteries were not included.
Because TPR material is very slightly 'sticky', it will pick up lint and debris. Since the toy doesn't come supplied with a method for storage, you need to come up with a way to stash it yourself. Store it in a separate container, be it a shoe box lined with a lint free towel, a clean sock, or a drawstring storage bag. Always make sure to remove the batteries while it's not in use.
Cleaning & Maintenance
Wash the Pleasurizer thoroughly with warm water and hypoallergenic soap before and immediately after every use. Absorb excess moisture with a lint free towel and let it air dry completely before stowing it away.
Critique
The Pleasurizer has a lot going for it. Its non-phallic shape makes it a great pleasure object for solo and couple's play, and it is also very easy to maneuver, making it a cinch to find your sweet spot - and extended play a breeze. Another great characteristic is that it is made of a fairly high grade TPR material, which means that there's less of a chance of discoloration or wear & tear.
Keep in mind that the majority of the vibe is focused on the clitoris, so if you need an internal buzz to climax, then a different rabbit vibrator will probably be more suitable. Though the vibe is about mid-range in strength, the shape of the g-spot stimulator is very conducive to getting off, as long as you don't need a rigid object to manipulate inside the vagina.
Based on our sample, the construction and durability of the toy is a bit less certain. You need to be really definite with the push button control. It requires a firm hand to flip through the different vibe settings, but there were a number of instances it wouldn't click off, so in order to force the outcome, the cap would have to be twisted off instead. After a few times of shutting it down this way, it just wouldn't turn back on, ever.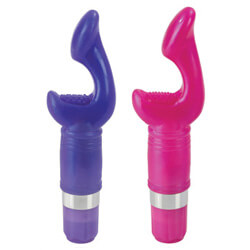 Long Term Appeal
The outlook for the Pleasurizer to survive into the long term isn't too optimistic, merely because it's a lower cost item made with lesser quality internal mechanisms. However, as long as you maintain it well and are careful with its use, you should be able to extend its life as long as possible.
You can get your rocks off with the Personal Pleasurizer without blowing the bank; the price can't be beat.
Final Thoughts
It's a deliciously unique pleasurable experience and might be just what you need to achieve the ultimate in g-spot stimulation. Although its construction is slightly questionable, it is low-cost – and it may have been the one lemon out of the bunch. We rate it 6.5/10.
To Order / More Information
If you would like to order a Platinum Pleasurizer, or would like to get more information about it, please check out the following stores...