Rock-Chick Review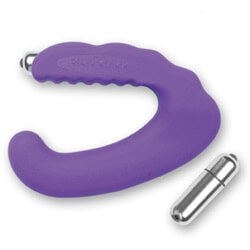 This UK-made pleasure object has won awards and accolades for its uniqueness and ingenuity. Rock-Chick was created for someone who is sensual and active; the rocking motion that you perform will arouse different depths and sensations. This pleasure object massages both your g-spot and your clitoris; it even allows for hands-free play: this is definitely something you should read about!
Description and Features
The packaging was simple but included a good amount of features and usage information to get you started. The insertable side of the "U" shaped toy has a rounded curve to provide extra stimulation to your g-spot. The other end of the "U" (which contains the vibrating bullet) wraps up and around your clitoris, resting comfortably against your pubic bone. The Rock-Chick is phthalates free, and made of a high grade silicone that is very soft and flexible; with that being said, remember to only use water-based lubricant with the Rock-Chick.
The Rock-Chick comes with a removable 8cm bullet that fits snugly inside the main body of the unit: it's recommended to use some lubricant to ease it into the toy. The battery contained within can be replaced with a 1.5 volt N or LR 1 type battery. The bullet can be removed to change batteries and to allow sterilization of the silicone component by boiling it in water for 5 minutes. The Rock-Chick is 100% waterproof and is even dishwasher friendly: the manufacturers have accommodated cleaning very well.
How It Works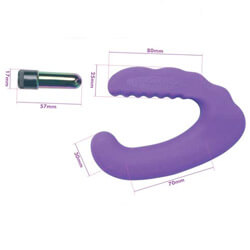 The biggest advantage of the Rock-Chick is that it gives you the opportunity for hands-free pleasure. It stays comfortably in place once inserted into the vagina and can be "rocked on" a number of ways. You can integrate a number of motions into your "Rock" such as rocking, thrusting or swirling.
The online video suggests these moves: the Laid Back Rock, the Sit & Rock, Rock on the Edge, the Yoga Rock, and Rock Yourself. To use the Rock-Chick, you insert the narrower shaft with the curved end into your vagina and wrap it around so that the rest of the wider ridged end containing the bullet sits against your clitoris. Turn the bullet vibrator on by twisting it clockwise and adjust the intensity by clicking the tip.
Benefits
Not only does the Rock-Chick toy allow for a multi-faceted orgasmic experience, it has incorporated features that are key to experiencing a g-spot orgasm. If you are part of the female population that does not yet have the ability to g-spot, you can still experience a powerful clitoral orgasm while you're being penetrated by the Rock-Chick.
This toy is non-threatening as well as partner friendly because it's non-phallic and contains no animal representations. There's even a version for men called the Rude Boy that highlights prostate and perineum massage.
Experience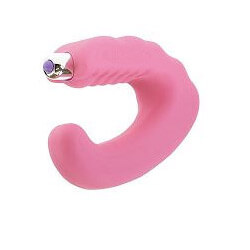 The Rock-Chick was easy to use, comfortable and provided a very pleasurable experience. It stimulated the g-spot exactly right - and rather quickly I might add.
The Rock-Chick is a testament to the fact that innovative design, high end materials, and supplementary user manuals make a winning combination: it provides deep satisfaction for the end user. I also love that the Rock-Chick gets your whole body sensualised by encouraging erotic body motions.
The website is without a doubt a very useful resource to enhance your experience with the Rock-Chick. In my opinion, what better way for a company to improve peoples' experiences with their products than to provide as much information as possible? My observations confirm that many companies skimp on instructions, which can really limit the product's potential.
In the case of Rocks-Off, their website includes a video demonstration of the different positions one can employ, as well as descriptions about of how to properly insert it, materials and an overview; this really enhanced my experience of my Rock-Chick.
Final Thoughts
I love my Rock-Chick! The cleaning process was quite easy, but I would definitely recommend using a water-based lubricant to insert the bullet vibrator into the snug opening. It has a big bang for its buck and will definitely have a long lasting appeal. Go get your Rock on. I give it an overall rating of 9.5/10
To Order / More Information
If you would like to order a Rock-Chick Review, or would like to get more information about it, please check out the following stores...