Vanity Vr Series Review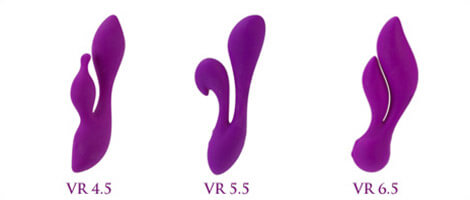 Featuring reviews on three of the most irresistible selections from Jopens Vanity Line (Vr 4.5, Vr 5.5, and Vr 6.5) of vibrating, rabbit style dildos, you'll soon discover that shape means everything when it comes to these toys! It's time to put those sleepy vibes to rest and wake up your senses to Jopens curve-hugging approach to self pleasure. With body safe silicone and a charge that goes for hours and holds for weeks, you're sure to "Jopen" your horizons with any one of the nineteen available shapes, styles and sizes!
Description and Materials
Made from high grade, non-porous and hypoallergenic velvety soft silicone, the water resistant Vr line is a luxury pleasure object made by US based women led company, Jopen. The package comes with all of the accessories needed for use and is backed by 1 year warranty along with an option to increase it to a generous and confidence inspiring 10 ten warranty.
You can be sure to find your perfect fit from any one of this high-grade line of sensual massagers. The Vr family includes:
1 set of pleasure beads, perfect for toning vaginal muscles
3 sleek insertable dildos
4 rabbit style vibrating dildos, all with their own charging cradle
8 ultra flexy rabbit style vibrators, and
3 stiffer, longer, rabbit style vibrators.
How They Work
Jopens pleasure objects are powerful, efficient and eco-conscious. The lithium ion battery recharges in four hours, and lends itself to hours of continuous fun. The LED indicator lights show the intensity being used on the independent stimulators - and when the batteries are in need of recharging. They include whisper quiet action and powerful, independent dual motors. They also sport an instant On/Off button and security travel lock, as well as independently controlled speed and intensity, allowing for a highly customized, orgasmic experience. They are 100% waterproof/resistant and come in a velvety-soft purple silicone sheath that naturally retains the heat your body generates.
Pleasure Factor
All 3 of the toys we chose to review were wonderful items. They stood up to vigorous use, performed well when both stimulators were used at full strength, and were easy to clean and maintain after use. It's also attractive that there is such a range of available lengths and shapes.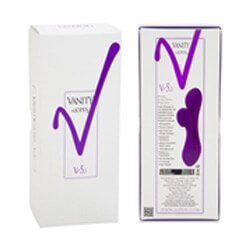 Packaging & Storage
Highly sophisticated and elegantly put together, the Jopen signature style packaging will impress. It includes a black satin storage bag, 110/240 volt power adapter, and a one-year warranty with an option to upgrade to a 10 Year Warranty! Four of the models include a charging cradle.
Cleaning & Maintenance
Jopen products are particularly easy to clean. Wash any one of these models with either toy cleaner or hypoallergenic soap and water. The product is waterproof, but try avoid dousing the controls. Dry thoroughly before storing and use a water based lubricant to help the silicone perform as it should.
Critique
There were so many unique shapes and styles to choose from. The flexi rabbit style vibrators have numerous variations of shaft and clitoral stimulators - some taper at the base and become bulbous at the ends, and some have long, narrow insertable shafts with short, firm pointed tips. Here's what we tested:
---
Vr 4.5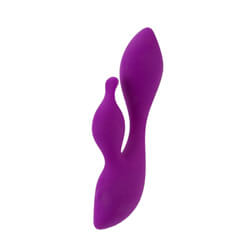 Vr 4.5 - This was a super bendy rabbit vibrator with a stout curved shaft and a demure, pear shaped stimulator. This one quickly became my go-to out of all three for strong, focused stimulation on the erogenous zones needing most delicate attention. The insertable dildo provided a pleasant sensation against the g-spot, but not necessarily the most generous sense of, er, feeling 'filled up'.
---
Vr 5.5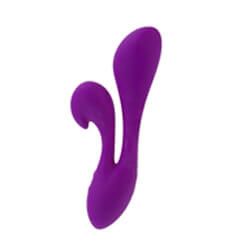 Vr 5.5 - For the girl who relishes rounded tips and g-spot focused curves, this flexi rabbit style vibrate makes dual stimulation its prime directive, lending itself to purposeful orgasms, excellent opportunities for solo/couple play, and easy manipulation (with one or two hands). The vibration is distributed primarily throughout the rounded ends, great for self-explorers and couples who want to thoroughly build sexual tension. Twist the shaft while it's inside of you and see what different angles hold in store.
---
Vr 6.5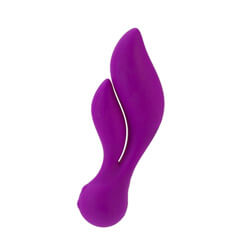 Vr 6.5 - Combining a defined, modern shaped tip and a penetrating shaft that's wide from base to tip, this model is the happy medium for those pleasure seekers looking for precision, control and a girthy shaft that's even from tip to tail. Feel free to manipulate it using various angles of insertion to create an overall warm, fulfilling experience.
---
Long Term Appeal
Based on our experience from the three toys we've reviewed , these dual motor, rabbit-style vibrators from the Jopen Vanity Series were all very easy to manipulate and fun to play with. Because the toys are highly efficient, not losing power as you increase speed and intensity, the rechargeable feature allows it to be at your ready at any time; and the hypoallergenic, food grade material instils everlasting confidence in its hygiene and safety. Any one of the members of the Jopen Vanity Series can persuade you to keep it plugged in and always ready to go back!
Value
Premium priced because they're excellently crafted and manufactured to please even the most discerning users, these Jopen pleasure objects provide an unmatchable selection and are best suited for women and men who value safe materials and highly reliable performance - you get what you pay for and can rely upon it.
Final Thoughts
Here's to an entirely new approach to self-joy! Finally, an eco-conscious highly stimulating line of rabbit-style vibrators that truly espouse their tag-line, "Form, Function, and Fantasy". If you enjoy firm insertion, go with a model with the long, stiff looking shaft; if you prefer a model that can handle more enthusiastic use, go with one of the flexible versions. At any rate, stretch your imagination as you pick the shape that's right for you. Everything we've seen so far deserves an excellent 9/10.
To Order / More Information
If you would like to order a Vanity Vr Series, or would like to get more information about it, please check out the following stores...