Vanity Vr10.5 Review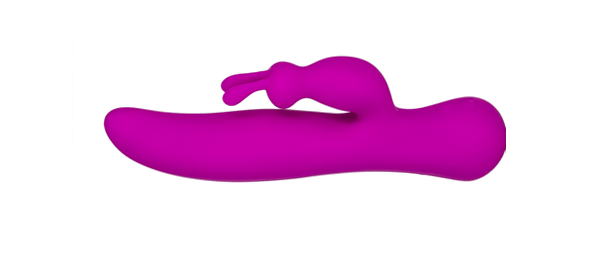 Whisper quiet, sophisticated and made of body safe silicone, this rechargeable rabbit style vibrator is ultra-luxe indeed!
Description and Materials
Made from high grade, velvety soft silicone, the water resistant Vr10.5 is a luxury pleasure object made by US based women led company, Jopen. With an insertable length of 5.25" by 1.5" (13.25cm by 3.75cm) and an overall length of 8.5" by 2.5" (21.5cm by 6.25cm), the stately Vr10.5 is non-porous and hypoallergenic. The package comes with all of the accessories needed for use and is backed by 1 year warranty along with an option to increase it to a generous and confidence inspiring 10 ten warranty.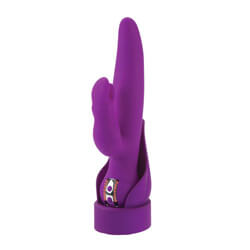 How it Works
With only a four hour initial charge time required, the lithium ion battery built into the toy can be recharged by simply placing it into the accompanying charging cradle and plugging it into a power source using the 110/240 Volt Power Adapter. The red LED lights will flash when charging, and when it is done the lights will no longer glow. The Vr10.5 arrives locked from the factory. In order to unlock it, simply hold down the Lock Button for 4 seconds.
The Vr10.5 is incredibly easy to use. To activate the rotating shaft, press down and hold button 1 - the one closest to the clitoral stimulator - to pass through the six levels of intensity. To engage the clitoral vibe, press down and hold Button 2 to pass through six levels of stimulation. To stop the rotation and/or vibration, simply click the associated button.
Pleasure Factor
As with other members of the premium Vanity line of Jopen products that are made for women by women, the Vr10.5 combines detailed craftsmanship with exclusive design features to engineer a vibrator that is functional, reliable, and fun to use! Both the clitoral vibe and the insert-able shaft are controlled by independent dual motors, allowing for the exact sensation you're looking for. What also distinguishes the Vr10.5 is the decent strength of the clitoral vibe and the wide ranging motion of the rotating shaft, ideal for users preferring medium high strength.
Packaging & Storage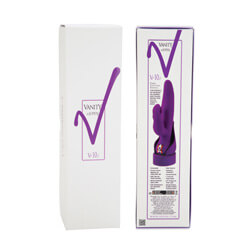 The overall presentation is commendable. The sleek white box sports a high grade dark colored cardboard cut-out and casing. Accessories include a black satin storage bag, power cord and charging cradle.
Cleaning & Maintenance
The Vr10.5 can be cleaned by using mild soap and water or toy cleaner. The manufacturer advises that the product is water resistant. Make sure to dry it thoroughly before storing and always use a water-based lubricant with this product.
Critique
Love it, love it ... and love it! Taking recharge-ability to the utmost level of ease (not to mention beautiful showcasing in its charging cradle) this rabbit style vibe delivers highly satisfying stimulation that is intuitive and easy to control. There are no off-putting smells, no mid-play breakdowns - and no more batteries. The website provides plenty of information, support and warranty information - and allows you to browse all of the other creatively inspired sister products like the innovative Jopen Intensity vibe.
The only feature that might take some getting adjusted to is how to use it effectively. After an initial adaptation period to get used to the ultra streamlined interface, my best advice is to master the controls so you don't accidentally interrupt the sweet vibes; press and hold to turn on and increase intensity, and click to stop.
Long Term Appeal
The high quality features of the Jopen Vr10.5 lend themselves to long term use and enjoyment, and the warranty alone is enough to inspire confidence in its long term appeal.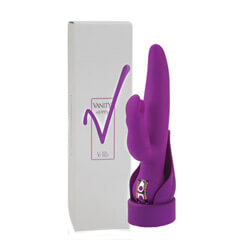 Positioned as a luxury personal massager the investment is considerable, but if you're looking to put your money towards a favorite go-to product, it's worth paying the initial cost.
Final Thoughts
Oh joy! The Vr10.5 is exquisitely fashioned and delivers a rotation and vibe that is quite unlike similarly priced personal massagers. We rate it 9.5/10.
To Order / More Information
If you would like to order a Vanity Vr10.5, or would like to get more information about it, please check out the following stores...