We-Vibe Review
According to the marketing literature many years of research and development were put into the design of the We-Vibe. The creator wanted to craft the 'ultimate modern vibrator'- one that was hands-free, cordless, carbon neutral, body-friendly and suitable for both solo and couples' use. We're going to reveal how the We-Vibe stacks up to the competition and whether it truly is your next 'need-to-have' sex toy!
Description and Materials
The design of the We-Vibe does indeed recognize that every woman's body is different. Its sleek shape conforms to curves and provides equally satisfying pleasure to the g-spot and the clitoris. It's shaped like a 'U' with two bulbous ends, the smaller one being the end that you insert into the vagina. It has no visible wires or buttons to distract you; moreover, it has no trace of cutesy animal representations or phalluses making it unintimidating and perceptually neutral. Its dimensions are approximately 1 inch wide by 2.5 inches long; what's really impressive is that it's almost weightless, coming in at only 2 ounces. Yes, you can walk around with it while it's still inside you. Kegels anyone?
Let's talk about a couple of other key characteristics. It uses no batteries because it's rechargeable. Carbon neutral? Check. You punch the small end of the charger through the silicone into the indicated end; you'll notice that when you pull out the charger it leaves an indistinguishable charging point. The We-Vibe is waterproof and made of phthalates-free, medical grade silicone. The product hardly has any smell to it, but sensitive noses may detect a very slight pungency; I found that this subsides with just a few uses.
Under the Hood
As there is a pulsating motor in each end of the We-Vibe there's just as much attention dedicated to the clitoris as there is to the g-spot. The motor achieves pulsating speeds between 3,000 to 5,000 rpm. If you're looking at the larger end of the "C", you'll find that the dimpled area encloses the on/off switch and right below it is the charging port.
Charge it for 24 hours before the first use and 16 hours for each subsequent use. I found that it keeps its charge quite well; I've left it for up to 2 weeks without use and never had an issue with power drain.
Packaging
I found packaging satisfactory – its overall presentation was simple and tastefully done, with no nearly-naked ladies on the box. You could confidently present this as a gift without jeers or eye rolls in return. It comes with a discreet purple container that bears a likeness to an eyeglasses case; it easily fits both the We-Vibe and the charger. Although the packaging had very little information, on the website was an all encompassing owner's manual complete with plenty of color photos and useful information. This toy has definitely got the best web support I've ever seen.
Audibility
The We-Vibe is positioned as one of my top five quietest toys. There is a minimal humming sound, but it's impossible to hear once the toy is inserted. I've used a number of other exceptionally quiet toys, but the trade-off with those ones has often been that they project an audible high pitched frequency that the ear eventually blocks out. In terms of audibility, the We-Vibe stands up to the best of them.
How to Use It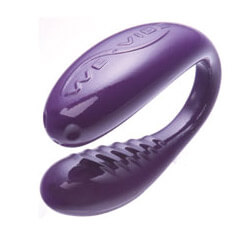 Use only a water-based lubricant (if required) before you insert the smaller tapered end into the vagina – it allows approximately 3 inches of insertable length before you hit the curve of the 'U'. The deeper you push it in, the more the 'U' bends into an "L". The fact that the We-Vibe is flexible is fantastic: it can accommodate the curves of women with so many shapes and sizes!
The on/off switch is concealed under the silicone sheathing of the larger bulbous tip. Switching it on to one side will set it on 'Low' and the opposite side will set the vibe to 'High'. Running it on low will bestow the user with approximately about 2 hours of playtime, plenty of time for an extended sex session.
Solo Versus With a Partner
The awesome thing about the We-Vibe is that it produces different sensations when you twist, turn, sit or stand. You can wriggle and writhe to achieve an endless multitude of sensations. While sitting up, you can bend forward to direct more pressure onto the G-Spot; conversely, bending backward will concentrate the vibration more against the clitoris. If you've ever done yoga, you'll have plenty of positions in mind to try!
Just Me and the 'We'
When used for solo play, I found that even a slight modification to how I was sitting or lying down impacted the effect immensely. It was a lot easier to control how fast my orgasm escalated by changing my position. Because of this, I was able to let the excitement build up slowly so that my g-spot had ample attention. Even though there are two intensity settings, the way that you manipulate the toy with your body will directly affect your experience. Moreover, the fact that it truly is a hands-free toy, allows the user to be free to explore the rest of their body and play around with positioning. Although I like to have a large range of intensity settings, I never once felt that the We-Vibe was overpowering or under stimulating.
With Partner
My testing partner wasn't entirely convinced that the We-Vibe would be comfortable for either one of us while we were using it during sex. This got me wondering if there was any available information about this feature before we tried it. The website explains that the sexual device is low-profile and will hardly impede coitus. What's more, the makers of the We-Vibe tout that men scarcely notice that they're 'sharing' a vagina, apart from the intense vibration when the toy is turned on.
In reality, I found the sensation of both toy and penis to be both comfortable and unobtrusive. Once I tried it, it clicked; the inside of the vaginal canal is very flexible and can accommodate the bulbous end. In essence, the We-Vibe creates sort of an orgasm button: every stroke of the penis presses the We-Vibe against the g-spot. Way smart! Those women who have difficulty achieving g-spot orgasms will find that this device facilitates more opportunity to come. A lot of lubricant is key to optimal use. If you find that the We-Vibe slips or moves too much as your partner thrusts, try holding onto the external end; conversely, press that end firmly against your clitoris.
Critique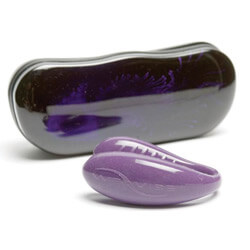 Despite the fact that I gasp "this is my all-time favorite toy!!" after every time I use the We-Vibe, I noticed a couple of things that I'd like to see improved upon. One of my main concerns was that I didn't really enjoy the material that it was made out of. It felt rather 'sticky' and picked up lint and dust like crazy! I completely appreciate that it is made of silicone but I've used many toys made of various grades of the same material and believe that there might be a more appropriate option available. Then again, the stickiness may the reason why it stays in the vagina better!
My other critique is related to the charging process. It would have liked to see it have a charging light or at least some kind of gauge to indicate that it was actually charging. It would be such a let-down to wait for 16 hours for it to charge only to find out that there was a problem with the socket or the charger!
As a suggestion for future successors, I would love to have the option to have different pulsation options; further to that, an optional wireless remote would be great so that you or your lover could control the fun. This is a feature that I normally only see with wireless bullets.
My final request is this: because I think this product is so great, I'd love to have an anal version; however, I don't exactly know where I'd want the controls to go. I can see it now, using not 1 but 2 We-Vibes all at the very same time. Whoa!
Final Thoughts
In spite of my concerns re stickiness and the charger the We-Vibe still takes the cake at a whopping 8.5/10! So yes, do go out and get one. It's versatile, durable and well constructed. I found this toy to be my hands-down favorite for travel because it's extremely quiet, inconspicuous and easy to toss into a suitcase. It has definitely earned a spot as one of my favorite toys ever!
To Order / More Information
If you would like to order a We-Vibe, or would like to get more information about it, please check out the following stores...