Liberator Wedge/Ramp Combo Review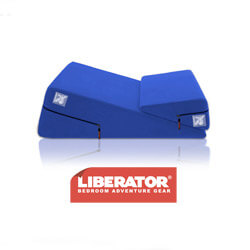 The Wedge/Ramp combo is a lot like sexy Lego for adults; it was created by Liberator the folks who design 'bedroom adventure gear'. They cater to celebrities and everyday people with products that are all made in the USA! The Wedge/Ramp combo is a staple piece for your sexual playroom because it is super multi-functional, easy to maintain - and most importantly, will keep you and your partner ultra satisfied.
How it works
The Wedge/Ramp combo is a set of two high-density foam pillows, whose shapes assist and enhance sexual activities. The angles they enable will allow for deeper penetration, better g-spot stimulation and can make penises feel bigger and vaginas feel tighter. The Liberator shapes are fun and inventive ways to enhance sex; a tilt here, a lift there and presto, a sexual experience that is fresh and exciting.
Features
The Wedge/Ramp combo is a wonderful way to introduce an "accessory" to your bedroom repertoire without intimidating someone who's sexually shy or conservative. Introducing this furniture can definitely combat the bedroom doldrums when you feel like 'you've been there, done that' with your routine. The Liberator gear can assist with play when you want to explore different orifices, a great feature for both hetero and homosexual couples. The Liberator can accommodate plus-sized lovers who are above average in weight or height.
Presentation
When I received my Wedge/Ramp combo, my expectations were totally exceeded. The shapes were well crafted, sturdy yet comfortable - and easy to use. They were also was very inviting: you can't help but want to slide on. The presentation of the set was great. Let me peel back the layers for you: it came with a handled nylon bag for easy transportation and storage, a microfiber cover for the high density pillow - and underneath that, yet another nylon layer to protect the foam from spills and stains.
The microfiber cover is machine washable and you can even order different cover colors to enhance the look of it; it's also is a great option to beat wear and tear. The Wedge/Ramp combo is exactly the type of product that would stand up well to regular use because it's uncomplicated to clean, easy to store and can be used in complement with other Liberator shapes.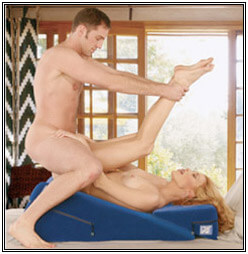 Position is Everything
The Wedge/Ramp combo unleashes positions and makes moves possible that you might have thought you could never do. It can take the pressure off one's lower back, knees and hips, which is why it's a great item for people with limited mobility due to disability or injury. Ladies, if your legs get tired from bucking like a cowgirl, consider this your buttress of freedom. Guys, you complain because you love your woman on top, but she gets worn out too quickly; the Wedge/Ramp combo will let her bounce all night.
Everyone could use some liberation and the Liberator can definitely bring it. I really enjoyed the depth of penetration in doggy-style and the openness it promoted, especially when receiving oral. Missionary position really hit the spot and girl-on-top lasts for so much longer, because there's less strain on the legs. There are a wide range of sexual positions that you can enhance by using the Wedge/Ramp in combination or using each piece separately.
I really appreciated the advantages that these simple shapes could deliver by optimizing angles, elevation and leverage; even a slight adjustment to a position can improve your experience exponentially. I think that this could be a valuable tool for men who struggle with a penis that's too short or women who are unable to reach a g-spot orgasm. This type of product is also a great alternative to insertable items, straps, collars, cock rings, and creams because some people just aren't into wearing accessories to improve sex.
Critique
The only thing that left me hanging was the desire to try the larger pillow. Although the online sizing guide directed me to choose the smaller size, I felt that I might have enjoyed a few positions with a larger Wedge/Ramp combo. One of my favorite positions was straddling my partner while the Wedge was stacked on the Ramp. In this position, the Wedge/Ramp felt too wide to straddle it comfortably but a tad too narrow to have a sufficient amount of room to keep my knees on it.
Overall, the average size was appropriate and being very petite was the main contributor to my lack of capacity to carry off some of the positions. My testing also found that a sturdy surface such as the floor is an ideal way to use the Wedge/Ramp combo. You can use it on a bed but I highly recommend getting a Liberator Escape (their moisture-proof sex pad sized for two) to maximize your experience.
Final Thoughts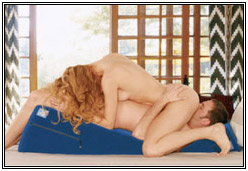 The Wedge/Ramp is extremely fun to use and as such is an excellent addition to my toy chest. I love it for how multifunctional it is and its prospective long term use. It's a nice sexual pick-me-up for a couple who wants something new and exciting to try in the bedroom.
It's easy to take care of and can be used in conjunction with other Liberator shapes like the Stage, Whirl and Escape. It can even be used with multiple partners because it is easy to clean.
Although its price point is a little on the high side, its benefits definitely make it worth the money. When you're not having sex on it, the Wedge/Ramp combo also doubles as great gear to lounge on. I rate it 9.5/10.
To Order / More Information
If you would like to order a Liberator Wedge/Ramp Combo, or would like to get more information about it, please check out the following stores...