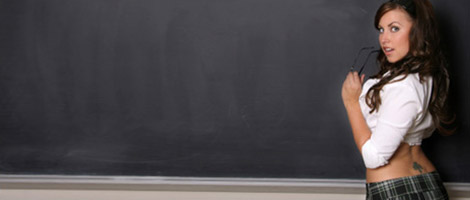 Cunnilingus Tips from Girls
It's time to freshen up and step it up! Most women have had the less-than-fireworks experience of being the receiving end of so-so cunnilingus, where the giver just didn't quite know what to do to make it great. While you can always talk it over after-the-fact to customize your style to your lovers wants and needs, let's go over what the majority of women would like to know to get you off to a successful start with an orgasmic ending, every time.
#1 Curtain draw.
Maybe this one is obvious, but you can't just stick your face in there and go to town. Well, actually you can, but you'll be much better received if you use the fingers of one or both hands to spread her inner labia open. Do this with your thumb and index finger, gently spreading the lips open and then licking from the bottom up to the top to help open her up fully. Once the 'curtains' have been drawn back, the stage is set - with better access to her clit, the vaginal opening, and everything else.
#2 Get rhythm.
Now, we're not suggesting that you don't already have it, but setting the mood with the right selection of music can never steer you wrong... especially if you are one of those rhythmically challenged amongst us. Think about playing some good sensual music to help you both get in tune with each other, and follow the beat into ecstasy.
#3 Be vocal.
Think about it, when she performs oral on you, do you want her to be silent, or have her ooh, aah, moan and groan with pleasure over every inch of your crown jewels? It's a big turn on for most knowing that you love how she tastes, looks and feels like, just as much as you love it when she arches her back and groans with pleasure over what you're doing to her. Get the point across – don't be afraid to speak or make some noise, make sure she knows you're loving it guys!
#4 Find what works for her.
Knowing when to change techniques, and when not to, is an important cunnilingus skill set to have under your belt. You can, and should, vary rhythm, speed, tongue patterns, and intensity for a truly pleasurable experience. Think about working through a gearbox, moving up through the gears as the revolutions rise. It is usually a good idea to start slow - teasing, building anticipation and arousal. Once you see and feel her start to grab, kick it up a gear and start to vary patterns, increasing speed and intensity. If you feel her start to relax and become quieter, change techniques, perhaps going back to something a little more gentle and playful until you feel her connect again.
Once you feel her tensing, moaning, arching, and pulling you into her, you know she's getting close. At this point keep it steady, with short intermittent increases in intensity if you feel she needs a little extra punch to push her over the top.
#5 Play your best hand.
A good lovers' hands are always busy - so don't forget to keep them lovingly attentive while your mouth is at work. A woman's body has innumerable sensual curves and erogenous zones just begging to be teased and caressed; so while you're down there try running your hands up to her waist and breasts, down over her thighs, tucking them in around the backs of her knees, up around her hips and buttocks, and even her anus (if she's into that), while you stimulate her with your tongue, adding some fingers or a vibrator to switch things up and increase pressure and pleasure when it counts.
#6 Keep it close to the clitoris.
All the stage setting, rhythm, oohs, aahs, techniques, and vibrators are lost by the wayside if your loving tongue steers too far north, east, south, or west of the infamous clitoris. If you're looking to induce a mind-blowing orgasm – or any orgasm at all for that matter – keep it close to the clit. Lick up to the clit, around it, suck it, trace designs numbers or the alphabet on and around it. Be creative, but whatever you do, keep it close to home base.
#7 Don't make a slobbery mess!
This is one of those 'the sweet spot is in the middle' type of things. Too dry, and you feel like you've got sandpaper being rubbed on your most sensitive parts - too wet, and you feel like you need an intermission to towel off.
#8 Don't stop!
Once you take your girl to her climax, let it linger a little longer. Women are capable of multiple orgasms, and if you play it right your little lady may be in for a treat. Once she has finished her first orgasm (which will feel like rhythmic contractions in her vagina, with her body tensing and arching), gently begin again, this time moving through the gears a little faster since she's already primed and warm, and close to the peak – just waiting for you to take her back over the edge.
#9 Enjoying her taste
There is little more exciting to a woman than to know that her partner finds her delicious; meaning that you enjoy the taste, smell and feeling of her vaginal juices. At the same time, there is little less exciting to a woman than to think that you don't like the taste and smell of her most intimate region. Although a woman's smell is normally fairly mild and pleasant, the degree of smell can vary considerably from one woman to another and at different times in her cycle.
If your partner has a smell that is more than you can handle, or she doesn't feel comfortable with you down there (thinking you won't like the smell), suggest taking a shower or bath first, perhaps even together.