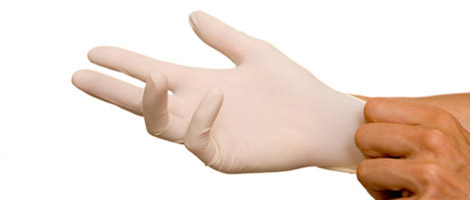 Massage - Anal Fingering
If your partner is not open to this form of sexual play, don't force the issue! If your partner refuses, try to open them up to the idea by exploring the area more often with your hands. They'll slowly get used to being touched around there, and it won't seem as big of a deal. But ultimately if your partner says "no", then accept it graciously and try something else you both like!
Cleanliness is essential with virtually all forms of this type of play. A bath or a shower is a great primer, and can be the start of the festivities. Once your finger(s) or sex toy has been inside their anus, don't put them anywhere else until you wash them. Carelessness in this regard can cause a very serious infection. Make sure to have a good lubricant, use plenty of it, and start as slowly as possible the first few times. Assess their responses to your actions and react accordingly.
Be sure to clip your fingernails quite short before doing any type of penetration, especially anal. The lining of the rectum is thin, and can be torn by sharp objects. If you have longer fingernails, you can pack some cotton balls around your fingernails and put on a latex glove. Also, if you are paranoid about what could be on your finger when you pull it out, a regular or finger condom may be a good idea.
Fingering Men
Some men are not very open to experimentation with this body part, as enjoying it may make them question their sexuality. As ridiculous as this may sound, it is a result of the prejudice and lack of understanding in today's society. In any event, make sure to communicate with your partner to avoid bad reactions.
Once you get lubricated, you want to start by taking it really easy. Most people who have never had any anal play will tense their sphincter muscles. If they are tensing, do not try to push through, as it will cause a lot of pain and discomfort. Instead, make little circles around his anus and wait for him to relax. Once he starts relaxing, gently try moving your finger in and out a little. Start shallow and slowly move deeper, just make sure to watch his reactions and facial expressions to see if you are going too fast.
Once you get inside, you can do a variety of things, including: twisting your hand, pulling in and out, moving in large circles following the wall of the cavity, or stimulate specific spots with little circles. There are two very pleasurable spots in and around a man's anus. The first location is the anus itself; it is surrounded by a large number of nerve bundles and is very sensitive. The second is the prostate gland; it is located a few inches inside the anus towards the belly button, and often feels like a firm bulge.
For many couples, the prostate is a largely unexplored region of recreation, and yet it can be an area of pleasure for both partners. Whether this area becomes a staple of your sexual practices is to be determined, but some initial investigation is recommended before making a decisive conclusion.
The prostate gland (P-spot) is centrally located inside the pelvic region of the male; it sits below the bladder and immediately in front of the rectum, wrapping itself around the urethra in order to add to the flow during ejaculation. The area between the anus and the genital 'zone' is known as the perineum, which is in close contact with the prostate gland. So not only does this little organ lend itself to hedonistic pleasure, it also actually performs a reproductive function by producing a seminal fluid that allows sperm to survive in the vaginal cavity.
Reaching the gland can be a potentially invasive procedure, involving petroleum jelly, rubber gloves (if desired), and wholehearted arousal in order to stimulate relaxation of the sphincter muscle. The stigma associated with anal penetration may be negative, depending on a person's particular background. Factors that affect an individual's readiness to delve into this sphere can range from degrees of homophobia or a fear of appearing homosexual, to simple issues of discomfort. An important point to consider is the man's willingness to engage in this affair; the more frightened, unsure, or unwilling the recipient is, and the more the incident is going to hurt, lowering the overall chance of success. Perhaps a drink or two might be required to relax inhibitions.
Though it is a voluntary muscle, the anal sphincter is designed to open upon internal pressure ... specifically, the force that is exerted from a full bowel. If gentle stress is placed on the periphery of the (well-lubricated) anus, it will perform the same action in reverse, almost sucking the finger into the rectal area. Once the finger or suitable substitute is inside the rectum about one or two inches, it must be pointed towards the ventral (stomach) region of the male and gently manipulated. In other words, if you are sitting between your partner's legs and your finger is in his anus, curl it toward yourself to facilitate the stimulation of his prostate to orgasm. Some men may need less or more specific attention to the areas in and around the rectum; for some companions, provoking the perineal surface before and during sex can promote or intensify the climax, and can form an alternative method to penetration.
An inhibiting factor to be aware of is the rectal susceptibility to infections of all kinds, especially those caused from the insertion of unclean instruments or of lubricating agents that contain low quality ingredients. Due to the vulnerability of this and other internal organs to damage, care and consideration is always warranted. Washing of the area with soap before and after the activity is a good plan, as is the use of condoms for penetration. Don't feel discouraged by the apparent elaborateness of preparation; anticipation is half of the enjoyment. Enjoy!
Fingering Women
Without going too close to her anus, explore her inner thighs and bottom with your hands and mouth. Some women have had bad experiences with anal play in their history, mostly because their partner moved much faster, or less gently, than they should have. If this is true in your case, getting her to talk about the topic is a great way to start. By learning where they went wrong, you can prevent that experience from happening again.
Using her natural vaginal lubricant or saliva may work, but we strongly recommend that you use lubricant, especially the first few times. Apply a fair amount of lubricant on your finger, and start by making little circles around her anus with a finger. If you feel her clenching her anus, you need to find a way to help her relax, as progressing deeper while she is 'tight' will only cause another bad experience. kissing her on the mouth and all over her body, performing cunnilingus, are just a few ways to ease her anxieties. If you get a chance to put on some music and candles ahead of time, it should help her be more comfortable.
Once inside, you can start playing to see what she likes. Start slowly and softly, and make sure to pay attention to her reactions when you speed up and/or add pressure. A few basic techniques to get you started are move your finger in a circular motion exploring the walls of her rectum, moving in circular motions along a specific region, moving in and out, rotating your hand to spin your finger. After learning what you can from these techniques, start mixing two, three or more of them together. Just always remember that it is a very sensitive area; so be gentle and watch her reactions before going further.