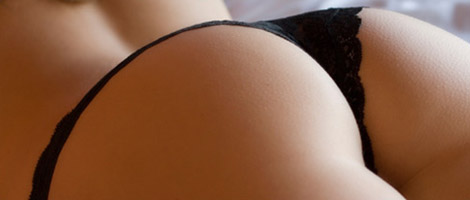 Anal Intercourse
There are many ways to enjoy the anus erotically. Some people enjoy the sensation of a finger inserted into their anal opening and gently rotated. Others may find the insertion of a sex toy or penis very arousing and stimulating. This section contains all the essential guidelines for enjoying anal intercourse.
Getting Started
Some people are not very open to experimentation with this body part, as they are scared that it will cause great amounts of pain, or the whole thought of it is grosses them out. In any event, make sure to communicate with your partner to avoid bad reactions. If your partner refuses, don't try to force them, it will be a horrible experience for them (and ultimately for you) if they are not comfortable with the idea.
If you are trying to convince your partner to explore this world, using something as large as a penis is definitely not the way to get started. You should start by getting them comfortable being touched in the area, then move up to using a finger or two, and then, when ready, finally moving up to intercourse.. Until your partner is ready to receive, their anxieties will cause their anal sphincter to tighten, and trying to push through will be extremely painful, so be patient!
Cleanliness is essential with virtually all forms of this type of play. A bath or a shower is a great primer, and can be the start of the festivities. Once your penis or sex toy has been inside the rectum, don't put them inside anywhere else until you have washed them. Carelessness in this regard can cause a very serious infection. Make sure to use copious amounts of a good lubricant, and start as slowly as possible the first few times.
The Largest Misconceptions of Anal Intercourse
Most people believe that anal intercourse hurts and that it is always an uncomfortable experience. This is quite simply false. As with any form of intercourse, the anus, like the vagina, must become used to the activity. Any woman who remembers her first time having sex probably recalls a painful experience. In fact, the first couple of times were probably painful and not that enjoyable. Did they stop having sex? In almost all cases, they didn't. Anal intercourse falls under the same guidelines for both genders; it takes practice to get accustomed to the activity. Pain is usually a sign that something is being performed incorrectly, not that the act is wrong. In most cases pain is due to a few reasons: the receiver is too tense and tightening, the giver is pushing too hard, there isn't enough lubricant, or that the penis or toy is still too big to put in (based on current experience levels). Using fingers and smaller toys is the best way to get used to the feeling, and it is advised that you increase size a little at a time. Once you have become comfortable with the idea and concepts you will probably find it very pleasurable.
The 5 Major Guidelines
Always use a lubricant. Unlike the vagina, the small amount of mucus a rectum produces is completely insufficient for anal intercourse. Therefore anal penetration should always be accompanied with an ample supply of lubricant. Water-based lubricants are latex-compatible and highly recommended.

Stop immediately if your partner asks you to stop. If your partner is too tense to experiment, all forms of anal penetration will cause a great deal of pain. We are not saying to stop trying completely, just don't push yourself onto your partner, as this will only result in a bad experience for them, and make them less willing to try again.

Take it slow. When experimenting with anal sex for the first few times, go slow. There is no rush and if you take your time you will probably both enjoy the experience. There should not be a great deal of forcing required. If lubricated properly, an object should slide in somewhat easily. We recommend using your fingers ahead of time to loosen them up first for the first few times.

Sufficient desire alone does not guarantee pleasurable anal sex. Read the other four points.

Always communicate with your partner. As with any sexual activity, communication is essential. Talk about what you want to do, discuss beforehand your desires, tell your partner what you like and don't like while engaging in anal intercourse. Basically, be open about your preferences and feelings, and, be receptive to theirs.
Understanding the Anus and the Rectum
A minority of men and women respond with orgasms to anal sex without direct genital stimulation. Women probably do so through pelvic muscle contractions - and a small minority through the sheer excitement of being penetrated anally. For men, an orgasm may be experienced because of pressure applied to the prostate gland. They are no doubt responding to indirect stimulation of the penile bulb. Orgasms from anal stimulation are most likely to occur when the participants become thoroughly absorbed in their sensations and fantasies.
The main function of the rectum is to act as a passageway for feces, but feces are not normally stored in the rectum except just prior to a bowel movement. Small amounts may remain in the rectum. This is one of the reasons that it is recommended to use condoms during anal intercourse.
The rectum is not straight; after the short anal canal that connects the anal opening to the rectum, the rectum tilts toward the front of the body, sometimes as much as 90 degrees. Then, after a few more inches, it swoops towards the front of the body again. A person can learn about the shape of his or her rectum by gently inserting a soft object, trying different angles and body positions and concentrating on how it feels. Make sure the object has a flared base so that if you lose your grip, it won't slip into the rectum and become temporarily irretrievable.
If you insert a finger about one half-inch into your anus and press your fingertip against the side, you can clearly feel the two sphincter muscles. There is less than a quarter-inch between them. The external sphincter is controlled by the central nervous system (voluntary), which means you can tense and relax this sphincter whenever you want. The internal sphincter is quite different. This muscle is controlled by the autonomic nervous system (involuntary). The internal sphincter reflects and responds to fear and anxiety. It may cause the anus to tense up automatically even if the person is trying to relax.
There is the risk of sphincter tone (tightness) loss over time due to repeated dilation for insertive intercourse. Stool incontinence (poor control) can occur when anal sphincter tone decreases; this problem has to be surgically corrected if it becomes chronic. This is another very good reason to take things slowly and to never force anal intercourse! Everyone's body has different levels of ability to adapt; if anal intercourse remains painful (or even very uncomfortable) then it is probably best avoided - remember, there are still many other ways to stimulate and enjoy the anal area without full intercourse.
Though it is always wise to practice the safest sex possible, this is especially true with anal intercourse. The lining of the rectum is very thin, and can rip if there is too much stress put on it. By wearing condoms, you can greatly reduce your and your partner's chances of transmitting most STDs.